Fatu Hiva, Marquesas

Juffa
Bill and Caroline
Thu 9 May 2013 18:45
10:27.84S 138:40.08W

Shortly after leaving Hiva Oa before breakfast, a mahi mahi was on the fishing line. Eventually landed, the metre long fish was finally dispatched with enough pieces of fillet for us and the anchorage once we arrived at Fatu Hiva, 40 miles away. The island is the southern most of the Marquesas and also the youngest and the wettest, so grey skies and the promise of rain was anticipated. Approaching the island didn't disappoint with the tops of the mountains hidden from view and sheer cliffs dropping into the sea. Huge pinnacle rocks dotted with goats towered over Hanavave Bay ( translates as 'strong surf bay'….) and a spot was found in the steeply sloping anchorage sufficiently far away from the cliffs.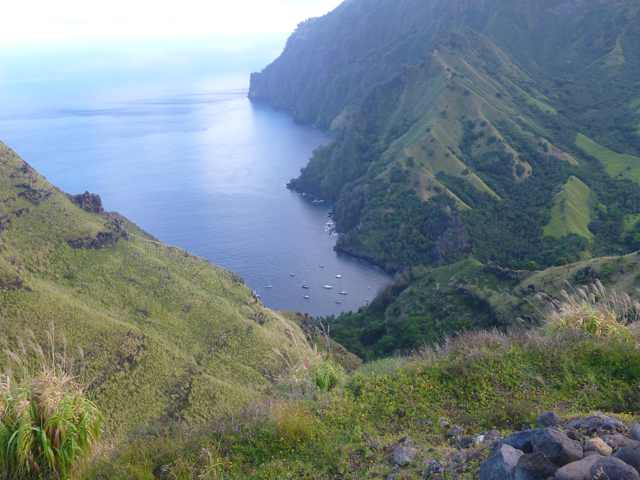 A hike with fellow cruisers to the waterfall was worth it when we caught a glimpse of the cascade in the distance from the upper slopes of the mountain we didn't need to climb. Retracing our steps to find the second turning on the left after the sign by the coconut tree that isn't a turning but really is...(instructions on how to locate the said waterfall) we all traipsed along a 'path' of sorts through jungly landscapes retreating up the mountainsides. The route was marked by small cairns which were handily noticed on our way back down the track( but at least we could find our way home). No one had had this much access to fresh water since living on land, so the prospect of a very large (albeit shared) bath was eagerly anticipated with bottles of shampoo, conditioner, soap and scrubbing implements. Most of us remembered to take swimming costumes but there is always one…
The decorating of the community huts was underway with flowers and woven palms to celebrate a Saint's Day, which incidentally coincided with May Day, and the turning out of the village to the combined religious and secular festival. Oral traditions continue in the church service with congregation responses learned by rote and the most amazing harmonics sung during the church service.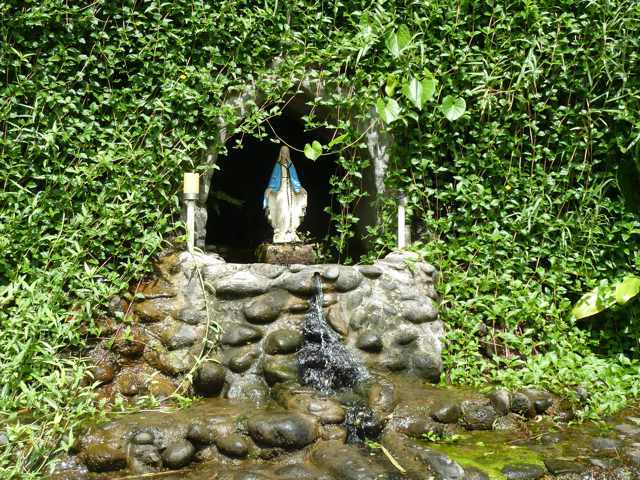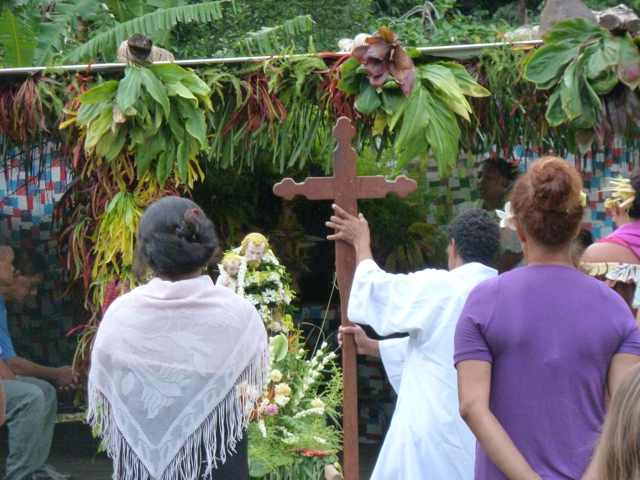 ---