Entry to Whitehaven

Slipstream Web Diary
Bill Cuthbert
Tue 28 Jun 2011 10:34
As the skipper mailed the last blog entry, having lamented the lack of wind, all of a sudden a gust picked up. This delighted the crew members as they
each in turn woke up to take their watch.
George and Chris, exhausted from the previous day's achievements slept very soundly and for a long time.
The summit of Snowden.
Monday's sailing went pretty smoothly as we made our way north, practising the various regional accents as we passed. The day passed uneventfully, if a little coolly until we passed St Bee's Head, shortly after which we were allowed to turn on the engine (and charge the mobile phones!).
At this juncture we had to calculate at what time there would be sufficient tide to allow us over the bar to get into Whitehaven harbour (amid much muttering about why they couldn't just bloody dredge it). We sent Paul down below with the tide tables to calculate, whilst we sat on deck with a rather nifty app on Bill's iphone which worked it out in seconds! We concurred that we had about an hour to wait, which we did dutifully (despite Julie's protestations that she was ' a bit chilly'!). Crossing the bar, some aggressive driving from our skipper saw 'Predator', a race leader be forced onto the sandbank whilst leaving the harbour. We later discovered she had suffered some damage and was limping back to Anglesea.....!
After a fun 'trip' in the lock, we dropped off our two spritely athletes to start their epic adventure of 26miles cycling and 26 miles running up the highest point in England. Our fabulous support team of Julie and Sarah greeted them with food, drinks and bicycles.
The rest of the crew breathed a sigh of relief as we found a berth in Whitehaven Marina. Though a littleshort, it provided a much appreciated steady bed for the night.
The younger crew got to work 'de-gerkhining' the fridge (not an entirely successful activity) whilst the support team fussed over us and Bill scrubbed the decks of Nick's gastric contents. With Slipstream looking much more ship shape, the crew along with the support team found a pub where we gorged ourselves on various pies and phamaceuticals, all helping us slip into a deep, restful sleep.
On Tuesday morning the crew awoke ready to greet our wearisome runners. Having spent 13.5 hours cycling and running they returned in surprisingly high spirits.
We left the harbour, waving goodbye to our beloved support team, and despite our best efforts didnt manage to 'take out' any other racing crews.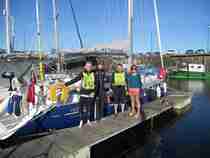 The runners enjoyed a hearty breakfast washed down with recovery drinks and budweiser...
They repaired to bed as the skipper and younger crew members played around with the smaller spinnaker in the glorious sunshine. Sails set, we sat down to a cup of tea and the Sun....
---