Wednesday 21st April 2010-Two weeks for the price of one

Slipstream Web Diary
Bill Cuthbert
Thu 22 Apr 2010 16:01
Two weeks for the Price of One
The team
Once again with misplaced paternal instincts, Nic and Bill silently awoke and left the mooring under sail so as not to wake the slumbering youths. However, we woke up 2 hours later to the smell of diesel, the sound of swearing and only half a mile from the anchorage. It transpired that the engine was 'buggered' by a diesel bug-ger. With no engine available and no breeze on offer we flapped around in the Guadeloupe Passage with a generally glum _expression_ on all faces. At this point Nic said "it would be at these times one would expext to see dolphins", and lo and behold, Flipper and mates arrived to cheer us up. Buoyed by this encounter we more cheerfully plodded on to the Marina Rivier Sens, on the South Western tip of Guadeloupe, our next island and intended land fall. This Marina, described as "an attractive, all service soujourn" by the hoplessly inaccurate and out of date guide book turned out be the Caribbean equivalent to a hot, burned out submarine pen. Dodging sunken destroyers, yachts and cyclone shifted concrete blocks we put Nic ashore with the rubbish, and the boys. A conversation with a potential saviour, prenom Marcel, fooled us into thinking that our problems would be over tout suite. 2 hours later nothing had happened alrthough we had observed a sucession of swordfish sailfish and possesions being landed. Bill and George went off to find ice creams. Bill felt generous in purchasing 5 lemony citrus treats for his crew who were scorching and wilting in one of the pens. Alas they were not lemon flaoured, but a mix of marzipan bendryl and lavatory cleaner. Only Nic finished his treat. We gave up on Marina Rivier Sens in disgust and forced the engoine into a coughing a spluttering progress north up the coast. Thankfully the breeze picked up and we headed for Pigeon Island (again), this time the site of the Jacques Cousteau underwater sanctury.
Having successfully established a Bahamian moor anchor placement (look that one up if you dare) we were glad of a joyful swim. We went ashore and visted the much acclaimed La Touna Restaurant. Pina Coladas and the opportunity to select our own 2kg lobster fresh from the tank (he was a real grandaddy), we feasted on lobster, tuna and langoustine. French was spoken throughout and the evening was topped off by a rather St. Emilion. The fayre proceeded rather smartly through Billy who rushed off to cork the local drainage system. We staggered back to the boat in the dark and fell asleep to the gentle movement of the boat and the sweet smell of diesel.
Supper!
The intrepid divers
We enjoyed a slow start; Bill and Nic didn't have to get up at 5.30. A major highlight was the scuba diving trip for George, Billy and Henry. Pescatorial defecation was observed. After a brief discussion of appropriate adjectives, 'awesome' was the only one deemed appropriate for the divibng experience. Following this, we enjoyed even more awesome crepes on the beach, the first savoury, the second nutella based. To this day all agree that dollar for kitty dollar this was the best meal we ate. It was around this time we heard that an unpronouncable volcano would be determining our immediate future. It is probably true to say that a pall of gloom settled over the adults but a sense of glee throughout the youths. As the sunset over Pigeon Island Billy and Hen swam the 300 yards back out to Slipstream and we prepared the boat for a night sail to Antigua. A watch system was arranged and we set off north in 0.3 knots of wind, the engine was completely en panne. Thankfully the wind picked up in the late evening and we ripped our way north towards Antigua. A series of uneventful watches passed, although at one poiunt Bill became concerned that a lighthouse seemed to be moving rapidly towards us. Reassesing the geostationary position of said lighthouse, him and George (helmsman at the time) decided it was a fellow yachtsman with inappropriate lights. We did a last minute tack to avoid collision.
All parties enjoyed an exhilarating sunrise as we tacked towards Antigua. The skipper had pre arranged a tow into Falmouth harbour and after some brief excirtement, fast tacking through the classic yacht fleet, persuing a perpendicular course to Carlisle Bay we met up with Shawn (non Irish spelling) who expertly dragged, shunted and pushed us safely into our berth. We found ourselves in good company. At 41 feet, Slipstream would have been a fair tender to most of the mega and giga yachts alongside whom we had berthed in the marina. Against the polished teak of our classic neighbours Slipstream looked salty, knackered and like Widow Twankey's barge (washing out all across the safety lines). A desparate need for lager was realised after our ordeal of the day, which was quenched at the Crazy Mongoose. Bill had arranged for Diesel engine repairs and other sundry works (broken windlass and bow thruster). Accordingly fee earning staff descended on Slipstream. Within two hours even the most serious problems were solved at the small cost of a couple of litres of diesel in Nics kitbag. Buoyed by these improvements, though saddened by news from the UK (Bill not the youths) we enjoyed an excelled evening at the Smugglers Inn in English Harbour. Sadly Alison and Jules were not there to witness the arrival of eight Essex girls (and I mean Harlow), who, accompanied by four gay friends graced the next door table. Suddenly we all felt very posh. After such a gorgeous meal, most of the party repaired to bed certain of a good nights slumber. Nic, however eschewinga night in the company of a diesel barrel, determined to sleep on deck. This was an important improvement for those of us with sensitive hearing. Disaster struck later in the evening as a deluge came forcing Nic to retreat amongst us all. Sonorous is a word which could be used to describe the ensuing noises in the saloon, but it caused a lot of bed shifting, and there was a rush for lavatory paper to be rammed in ears.
We awoke next morn, this being Saturday still in the belief that more crew members might join us as we sailed north. These hopes were dashed early on to tears to tears and cheers from various crew members. Determining to "get away from it all", Bill went off to rent a local car and we were delighted with our burgundy 4x4 soft top jeep. We whizzed off in search of the airport, no happy news there and then sought out touristy delights on some of the western beaches in Antigua. After much haggling, we hird a jet ski from 'Sleazy Pete's' in Dickenson Bay, which could only be described by the younger members of the party as "awesome" again. We determined to leave the bay and see what other beaches had in store. AFter a short tour of the traffic jams in Antigua's capital, St Johns, we were once again into the countryside. We setlled on Blackwood Bay just south of Jolly Harbour as a suitable lunch spot. The beach was deserted and we were the only customers of the toothless hag who's bar we were then frequenting. At this point it is worth recalling that there had been throughout the trip a preoccupation with stool softness. We should not have worried, the toothless hag's club sandwich and chips saw to that. It tasted nice at the time, however and was less expensive than the goat curry. After an interesting drive through the rainforests and nature reserves of ANtigua, we returned to Falmouth Harbour, got smrt and enjoyed the best the Caribbean has to offer by way of authentic stone baked, Italian pizza.
Widow Twankey's boat
Our next morning was punctuated by the need to perform clothes washing. The owners of yachts worth tens of millions of dollars looked on aghast as George, Billy and Hen washed and paraded their smalls on the pontoon. As previously noted, the spirit of Widow Twankey lives on. After a brief, possibly too brief look at the charts, Bill declared that we had a little over 120 nautical miles to cover that day, and in a stiff NE breeze we sailed with the wind on our beam around the western side of Antigua. As the miles went by, so Bill's estimation of the likely length of our journey, increased. We enjoyed an amazing sunset, accompanied by boat-made "sugar cake" adjacent to St Kitt's and Nevis. We saluted the Kingdom of Redonda. We jybed to avoid St Bartholomy. We dodged Saba and whizzed past St Martin and St Eustatius. By now it was midnight and we had sailed 120 nautical miles with Bill estimating a further 120 yet remaining. It is woth noting that by now we were fully back into the north Atlantic ocean with chunky swells and a failing wind. Around sunrise the next day we cranked on the engine and charged headlong for Virgin Gorda so as to ensure that our difficult land fall would be attmpted in full daylight.
234 miles and 31 hours later, and after some excited photographs by Necker Island, we picked up a buoy at the Bitter End Yacht Club in North Sound, Virgin Gorda. Fresh water showers were permitted and we enjoyed a pleasant dinner in the yacht club grill which preceeded an argument regarding bill payment. We repaired to the local pub and played a round of darts in which Mr Homan managed to creep in to victory ahead of Henry. Most of the crew enjoyed a good nights sleep undisturbed by watch duties. Nic, however missed the smell of diesel in the morning and complained of fitful slumber.
Coming into Virgin Gorda with Necker Island in the background
We breakfasted late, foced Billy and Henry's noses into their school books and then Nic, Bill and George left for the pub. At this moment George made a visit to the much acclaimed ladies restroom, to confirm that it had been unblocked.... We resued them around 1400 and, armed with a picnic set off for a private beach on Prickly Pear Island. The beach was superb, secluded and truly private although lacking in the advertised 6ft pear eating lizards. We enjoyed an excellent lunch, the sight of pelicans dive bombing the reef beside us and recorded some interesting fish sightings during our snorkelling. Conches were everywhere and Nic saw a stingray. At one point in the afternoon we were delighted as a vision rose from the sea in imitation of Ursula Andress. George's tan really is coming along... Henry and Billy are known as "the puppies" and despite our best attempts to drown them, by towing them behind the dingy for 2 miles on the return journey, they still keep bouncing around and wagging their tails. All that seems to be required is regular inputs of burgers and the opportunity for regular outputs... Burgers in the pub that night, including talk of the enormous stingray that had circled the boat as we left made us all rather floppy and we abandoned the 'ocky' early.
The puppies playing in the sea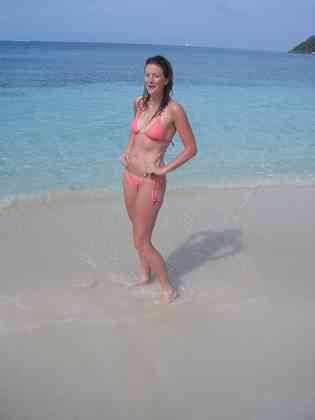 George posing
Next morning noteworthy as day 11 of the holiday and the date at which George should have been taking examinations, started with early pancakes courtesy of Aunt Jemima's ready mix. The schoolboys found it a little hard to get going, but settled down in the school room in the cool of the saloon. At around one, they were permitted ashore for a fruit punch before we quit North Sound for good. After a brief motor through the narrow entrance channel, we tacked our way smoothly past George Dog (Ozzie), Mad Dog (Ollie) and small dog (Lulu) after only seven miles, this time a distance more accurately determined by the skipper, we arrived at The Baths. These natural rock formations had been reccommened by Julie loolie big fat goolie. We enjoyed some excelled snorkelling, including a brilliant shoal of blue fish, it was like a scene from finding Nemo, An 'awesome' time was had by all. We repaired to the bopat, some by dinghy, some by swimming (300 yards, but George definitely won). Then ensused a cocktail happy hour driven by available ingredients. It would be fair to say the availablity of ingredients also influenced the meal the Puppies made. This repassed, entirely sourced from a tin, was delicious and was washed down with what Bill gleefully described as 'the cheapest red wine in the BVIs'! After washing up we wrote this blog to the sound of the lapping water on the hull and under the stars and a half bright moon.
Following all this typing, George is now considering a job as a secretary.
---