27t November 6th day at sea

Slipstream Web Diary
Bill Cuthbert
Fri 27 Nov 2009 20:50
Several ships sighted through the night, but just their lights, none close enough to recognise. Good to see that we are in contact with the fleet.
Attempt to convert to Twistle at 8ish in the morning was a little troubled by difficulties in lowering the mainsail, though these were soon overcome. Sailed on with the Twistle, a bit more southerly than we'd like, but all good general progress. We'll need to make a more westerly course, but as we get more into the Trade Winds that should be easier.
Sequential mass ablutions on the boat: a bucket of warm seawater on the foredeck or back of the boat. Sadly when the provisions were being laid in little thought was given to shower gel (or indeed to personal hygiene more generally) with the consequence that we have one litre of Johnson's shower gel (affectionately 'sheep dip') which is in danger of running out. Not sure what will happen after that.
Very hot day: yesterday we'd been protected by some cloud, but today we were exposed to the full force of the sun, so we'd slipped slapped, slopped or whatever it is and then put up a Biminy (which is the nautical speak for a sunshade – or a piece of tarpaulin over the cockpit) which gave welcome shade on one side of the cockpit.
Fishing: Once again the fish are winning. Towards the latter part of the afternoon, one of the rods was noted to be bending & so Rich made a leap for it but was unable to prevent (what he claimed to have seen as) a very large fish making off with one of the 24 euro squid lures on a 100 kilo breaking strain line.
The best we managed was the (passive) capture of three tiny – an inch or so long – flying fish through the night.
Breakages: the mainsail track (again), but it's fixed now.
A picture of the crew, bellies in, today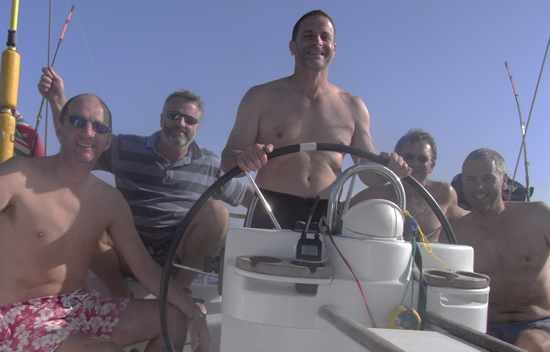 ---