Antarctic Photos 3 – Deception I sland

Mina2 in the Caribbean - Where's The Ice Gone?
Tim Barker
Sun 29 Jan 2012 20:36
Antarctic Photos 3 – Deception Island
Deception Island is a still-active volcano in the South Shetland Islands just north of the Antarctic peninsula. The sea has flooded the crater to form a natural harbour about five miles across. Access to the caldera is through a narrow gap called Neptune's Bellows. The harbour was used as a centre for the whaling industry at the beginning of the 20th century and since then has housed a couple of scientific research bases.
Our first iceberg as we passed Smith Island before heading for Deception Island.
CapTim proudly hoists the Antarctica courtesy flag
The anchor nip on this momentous occasion is of the bubbly variety. Ewan checks he is not being short-changed. The adjudicator is ASD Snoopy.
Celebrating our arrival in Antarctica
The remains of one of the whaling station buildings …
… surrounded by the enormous vessels for rendering down the whale blubber into oil
Mina2 at anchor seen through the abandoned hardware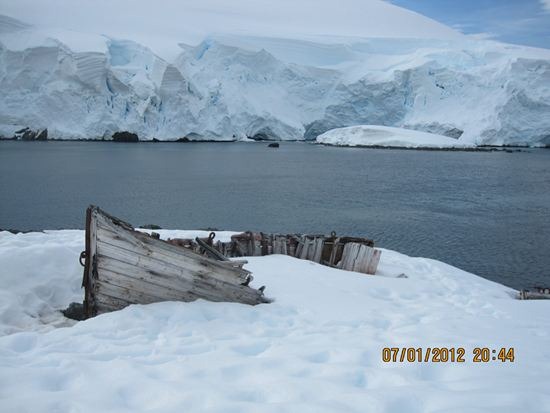 The remains of water boats that used to take barrels of fresh water out to the whaling boats anchored in the harbour.
Staves from water barrels still in position after nearly 100 years
The lonely resting place of a Norwegian whaler
Peter enthusiastically prepares for his Antarctic swim in the hot volcanic springs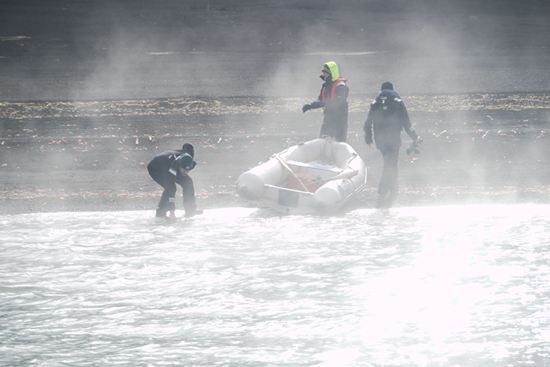 The temperature of the water is tested …
Ready, steady …
… and in they plunge, with Mina2 in the background
A Chinstrap penguin receives his instructions from the Director
but stomps off past an elephant seal …
… to star in Ewan's film instead
---