Passage to the Falkland Islands and Stanley (1) (1 of 8)

Mina2 in the Caribbean - Where's The Ice Gone?
Tim Barker
Mon 19 Dec 2011 02:27
South Atlantic storm
Left photo does not convey the fury – right photo showing 60+ knots of wind on instruments does!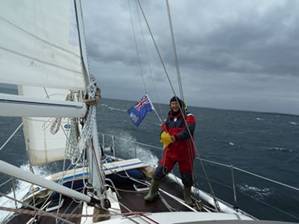 Tim raises Falklands courtesy flag – and first sight of Stanley
Our mooring in Stanley against cold and stormy sky
Night 1 – Caipirinha party aboard Mina2 with crew of Dawnbreaker
Tim posts his Christmas cards against traditional British setting …
… whilst John stows his shopping – nothing but beer!
---