The end of the holiday

Mina2 in the Caribbean - Where's The Ice Gone?
Tim Barker
Thu 25 Nov 2010 02:43
Date: 25 November 2010
Position: Paraty (again)
Unable to move south because of technical problems, the Downstairs Skipper and I have enjoyed our last few days holed up in paradise. We went round to the last bay in the Baia de Ilha Grande and anchored off the deserted beach in the western corner of the Enseada do Pouso (23 deg 16.09S 044 deg 34.82W). A fishing family saw us come in and paddled over to the shack on the beach where a few tables were arranged. The bar and restaurant was open. This is the way it works here. Very few boats pass this way, let alone anchor but, if they do, a fisherman's wife will be happy to cook for you whatever they have available. In this case she produced some delicious fresh water crayfish that they caught in traps in the waterfalls behind the beach.
Unexpected lunch of waterfall crayfish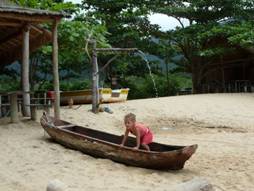 Life in the Enseada do Pouso
After lunch, wishing to avoid a rolly night in the Atlantic swell which was curling round the headland, we returned to the most beautiful anchorage round the back of Ilha da Cotia in the Enseada de Paraty-Mirim (23 deg 13.619S 044 deg 38.46W) and stayed there for two days. But in the backs of our minds was the knowledge that our rare holiday together was almost at an end. After a romantic candle-lit dinner of barbecued chicken and a bottle of wine, preceded of course by our traditional sundowner of a devilishly strong Caipirinha, the DS began tidying up before she left the boat. She started with the "almost empty" bottles.
"There's only a scrap of this Baileys. You desperately need the storage space. I'll free it up for you" she said, emptying the contents almost to the brim of a large glass.
"I'll drink it through a straw so it lasts longer" the DS added thoughtfully. Within a nano-second, there was the sound of gurgling. The glass was empty.
"Oh, that didn't work" she said, "The problem with drinking through a shtraw is that one feelsh compelled to shuck it". Whereupon she dived below saying "Let's shee what other bottlsh need tidying up."
Tomorrow, The Three Musketeers arrive – Tom, Richard and Lawrence. They will be joining me for the next three weeks whilst we dive south 1200 miles to Buenos Aires. Although travelling with just a couple of pairs of shorts, T-shirts and some sun tan cream, they will each be tipping the Heathrow scales with all the spare parts I have had sent to them. I can't wait to see them.
The anchorage at Paraty …. a short dinghy ride from the old town
---