Time to Go

Mina2 in the Caribbean - Where's The Ice Gone?
Tim Barker
Sat 17 Oct 2009 12:22
Quinta do Lorde Marina, Madeira: 33:03.594N 016:19.332W
17 October 2010, 1330 hrs
This blog is put together in great haste as having prepared ourselves for the scheduled departure, I have just been told Le Grand Start now commences at and it is now so I'd better get a wriggle on. Hence the brevity of this transmission. This first leg of the rally is from Madeira to Tenerife. 260 miles south it should take only a couple of days but the winds are forecast to be light so who knows. Read the blog to find out!
Yesterday, Richard and I hired a car to see something of the interior of mountainous Madeira. It is dramatic and beautiful and we went for a longish walk right to the peak of the highest mountain (about 1800m? – a lot higher than Ben Nevis). Last night we had the pre-departure rally party which was very jolly, but we are all suffering a little this morning.
As promised, here are a few photos of Madeira:
Quinta do Lorde marina, Madeira
Mina2 ready to go – note Mr Muscle standing in the cockpit
Richard on our long walk to the top of the highest mountain in Madeira
View from the top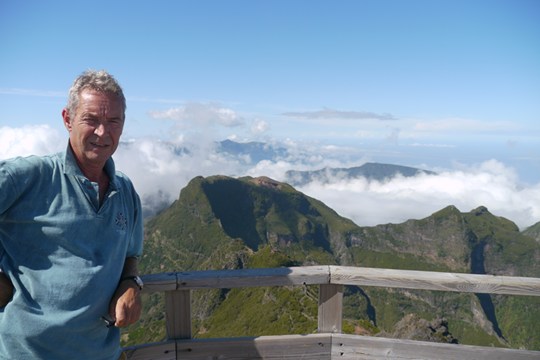 The Skipper feeling on top of the world
---