The Ilhas Cagarras and a Tour of Inland Rio

Mina2 in the Caribbean - Where's The Ice Gone?
Tim Barker
Mon 22 Mar 2010 16:05
Date: 21 March 2010
Position: Rio De Janeiro
Saturday was the day we acted as host for our Rio friends. Lilian and Nigel, Vivien and Marcelo and Ana their daughter with friend Daniel came on board for an outing on Mina2. Sadly Lilian and Nigel's daughter Lucille dipped out – having the energetic and exhaustively inquisitive three-year old Sofia on board would have been too much. Probably the right decision but we missed them. We sailed (just) to the Ilhas Cagarras, a small archipelago of islands about seven miles out of Rio harbour. It was a wonderful but brief escape from the confines of Marina Da Gloria.
Day out to Ilhas Carragas
Marcelo in control
We hadn't expected any culture today but we got it. Ana peeled off her T-shirt for a bit of serious sunbathing on the way to the islands to reveal a stunning tattoo which occupied most of her back. Whereas most tattooees are satisfied with a bald eagle, a dolphin, or a bleeding heart with "Kevin" beautifully inscribed underneath, Ana had an original work of art by the leading Brazilian contemporary artist Beatriz Milhazes who is a friend of hers. Spiralling flowers cascaded down Ana's back. Living art at its best, Milhazes lesser works are to be found at the Tate Modern and the Pompidou Centre.
Milhazes less interesting works are to be found in Tate Modern
The Ilhas Cagarras are quite barren and are a nature reserve for breeding frigate birds, vultures and brown boobies. With brilliant views over Ipanema and Copacabana, it was a perfect anchorage where we swam, ate and drank before sailing back at dusk.
Having said goodbye to Marcelo, Vivien, Ana and Daniel we were then taken by Lilian and Nigel back to their home in Barra, a new district created over the last 25 years that spreads about 30 miles west of old Rio. Ultra-modern, it is a strip of alternating sophisticated shopping malls and large condominiums of houses and apartments in spacious landscaped estates which provide a very secure environment. Barra runs down an almost endless beach so no one is more than about 5 minutes away from the sea. We had a splendid evening with Anglo-Portuguese fellow guests Rodney and Gill which stretched well into the night.
The following morning we were up early again for The Grand Tour of Rio, Act II with Vivien and Marcelo. This time it was to see some of Rio's glorious surroundings. Up and up we climbed into their car until we reached the Tijuca National Park.
A family of racoons in Tijuca National Park
Back in the 18th century the springs in the hills provided water, flowing down an aqueduct, for the developing city of Rio. The hillsides were later deforested to make way for coffee plantations. But the deforestation resulted in the water drying up. So the Emperor of Brazil, a member of the Portuguese royal family, made the brave decision to order the sequestration of the plantations and the replanting of forest trees – not restricting them to the local species, but to species from all over the world. The result, enjoyed to this day, is a tropical arboretum on a massive scale, unequalled anywhere.
We then climbed aboard the funicular railway to climb the steep mountain to the top of Corcovado, the enormous pinnacle of rock on which stands the famous landmark of Rio, Cristo Redentor, the vast figure of Christ, arms outstretched. Sadly the Cristo is covered in scaffolding as part of the smartening up process for the Olympics in 2016, but the views from the top are breathtaking.
Time for lunch, we went to a fabulous restaurant called Aprazível in the pretty district of Santa Teresa where all the artists live and where we lunched on Brazilian specialities. Followed up by a tasting of different types of cachaça, we arrived back at the boat ready for a very early night.
Marcelo and Vivien admire the view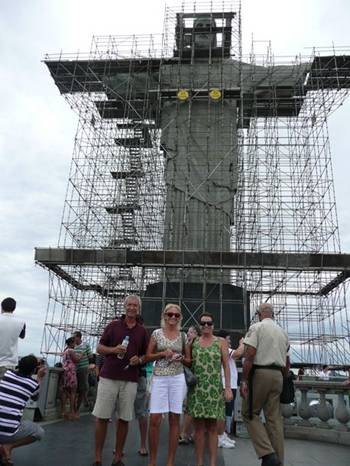 Cristo Redentor shrouded in scaffolding
---