The BVI with Jo's parents 1st March to 12th March

Lazydawn
Mon 27 Mar 2006 15:01
The sail from Antigua to the BVI couldn't have been kinder. We had been looking forward to a long leg with the Parasailor up.....but alas for the first time throughout the whole trip the wind was under 10kts. We could do nothing but turn on the engine! We motored until 9.30pm when finally the wind kicked in and we then had a gloriously benign easy sail overnight and arrived in Tortola at 5pm, after a 30hr passage and 180 miles.
My parents were arriving that evening so we took a berth in Village Cay Marina Road harbour and set to work cleaning and tidying for the 'royal visit'!!
Despite their long flight and delays with their transfers from Antigua to Tortola, they arrived in great spirits. My father (George) unfortunately was recovering from an emergency appendix operation 2 weeks earlier so was under strict instructions not to lift anything. This had meant careful planning with the luggage and lots of heavy work for mum (Pat -well done!). Being a 'salty sea dog' Dad (George) had come prepared with his hand held VHF, so with "Lazy Dawn, Lazy Dawn, Panacea (the name of his old boat), Panacea, over......." from the taxi, we had a hassle free rendez-vous, and no expense paid!! The mobile phone networks are not reliable....Chris you had better get back to work at Nokia!!
As Chris and I were BVI virgins having arrived only 12hrs earlier, we welcomed the experience of my father and set off on 'Kingston tours' or 'Kingston b******t tours according to Patty!! (Sorry Dad). George has sailed and raced in various parts of the Caribbean in the past, including a season out here 6 years ago on his own boat 'Panacea' so we started a nostalgic voyage down memory lane.
With the appendix and hernia scars still healing, all heaving on lines was absolutely forbidden for George - very convenient thought Chris now relegated to anchor boy and winch monkey!! No sooner had we set sail than Georges hands were seen 'velcrode' to the wheel - "Drs instructions you know!!"
Georges hands velcrode to the wheel!!
We headed first to 'Sopers Hole' for our first night and left for the island 'Jost Van Dyke' in search of 'Foxy's'. 'Foxy's in Great harbour is a unique beach bar and a 'must' in the Caribbean. If you are lucky, as we were, you might catch Foxy himself sitting with his guitar casually adlibbing on request. He can come up with lyrics about any place or country.....Switzerland and the Swiss....impressive.
Foxy!
We sailed into 'White Bay' ,an impressive 1 mile away. It has a beautiful palm lined beach and the depth keeps the boats to a minimum...we had 0.3m under the keel at anchor, so with turquoise water all around we had lunch and a snorkel.
George (Dad) and Pat (Mum) after the first swim of the holiday - relaxed already?!
Mum and Dad had come out here last year on 'Sea Cloud II', a modern luxury square rigged yacht, as part of the Nelson celebrations. They had a great time touring 'Nelsons Caribbean' in style, so it was great to chance upon her anchored just outside 'White Bay'. ( Chance, it was a plan!! )
'Sea Cloud II'
From Jost van Dyke we headed south west back past Sopers Hole on the western tip of Tortola, across the Sir Francis Drake Channel and into 'The Bight' on Norman Island. A monstrous 10 mile 2hr passage. We have to admit that with no wind we motored all the way.....with the bimini (large sunshade) up and the engine still on the dinghy!! This is now where 'Mission Impossible' comes in and Chris was willing to accept the mission.......the request for ice creams, alcohol and ice!! As we neared Sopers Hole, he jumped in the dinghy, sped off into the distance, whist we continued on to Norman Island. 30 mins later the hero returned. The things people do to impress the future 'mother-in-law'!
Chris, accepting his mission, disappears in the dinghy
Ice Creams all round!
We met up with Alter Ego (Bob and Gill) in The Bight, who we hadn't seen for almost 3 weeks so we had lots to catch up on. A great night, with plenty of alcohol and noise, especially when Peter Burwood (ARC) and John Rennison phoned at the end of their alcoholic evening in the UK. With the help of the speaker phone everyone chipped in sitting in the cockpit, apologies to all the boats around! - great to hear from you both!
We went by dinghy for a morning snorkel at The Caves just off The Bight. A beautiful spot with loads of 'Sergeant Majors' (small yellow and black striped oval fish) Getting back into the dinghy from the water afterwards caused some excitement!
'The Caves' Norman Island ( The misty romantic look is thanks to a wet waterproof camera!)
Leaving The Bight we decided to sail out via a windward mark Alter Ego as Gill and Bob are always saying that Lazy Dawn sails every where!!! So we had to leave the buoy with sails up and then tack around them - quite slick... Thank god, as the rocks were only 20 metres way :o)
Lazy Dawn sailing around Alter Ego ( Pictures courtesy of Alter Ego thanks Bob & Gill )
Next stop on 'Kingston Tours' was 'Trellis Bay' and an evening out at 'The Last Resort' an English run bar and restaurant on its own very small island in the bay, famous for its donkey ( called Bottom ) who wanders free!
We had a fantastic upwind sail in light winds to Virgin Gorda and into Gorda Sound finishing off with a fantastic sunset:
A perfect sunset in Gorda Sound
We drank ashore at Bitter End Yacht Club and Saba Rock Hotel and had a lazy day at anchor.
With light winds it was a perfect opportunity to head up to Anegada, a low lying island surrounded by a huge coral reef, and thankfully a little off the tourist track. We had an early start to make the reef navigation in perfect light, and arrived in plenty of time to trip across the island to Loblolly Bay sheltered from the swell by the surrounding reefs, for a great snorkel. Mum proved herself here and was awarded her snorkelling proficiency badge :-) And she was loving it!!!!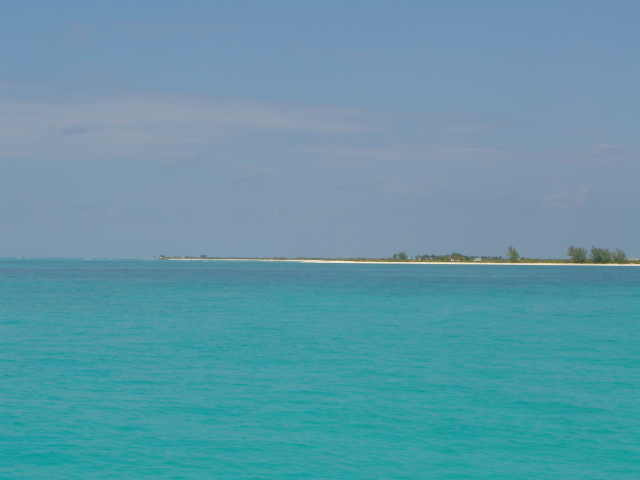 Anegada - what a beach!
We are quickly learning the 'BVI way' ...... a short sunny low wind sail from a quiet night anchorage to a beautiful beach for a morning snorkel, then, lunch,drink, more drink in a beach bar in an idyllic bay, restaurant fro dinner and then on to a late night bar and then the day starts again!!!! We had one of our best nights in The Anegada Reef Hotel. BBQ'd Lobsters and plenty of dancing on a sand dance floor.
Great fun!
We had a windier sail back with mum now totally at home!:
Mum sitting on the rail - Caribbean style!
The last few days of the trip were spent doing as much snorkelling as we could fit in.......
Mum - a natural snorkeller!!
We saw turtles :-)
The end of their trip was coming to an end. What a great time - full of smiles, laughter and firsts - well done Mum!!!
Mum (Pat) prepared for the rain in the dinghy - which thankfully never came!!
Mum and Dad / Pat and George in Lazy Dawn luxury cabin! - Well done - just ask them how they got in and out!!!
---