Antigua with Lars 19th to 27th February

Lazydawn
Wed 15 Mar 2006 03:38
The wind was fair for our passage to Antigua with 110 miles to go with wind angles of close hauled or just slightly off the wind we expected a long and slow ride. Luckily the wind veered and enabled boat speeds to climb to over 7.5 knots, so after a 19 hour passage we arrive in Antigua at 02.30 AM. Luckily we knew the harbour and with the Radar we found a good anchorage between the unlit boats!! All quite exciting but simplified by having the local knowledge and the right tools for the job!!
With Lars arriving on the 19th this gave us little time to provision or clean the boat, after a good sleep we did our best to prepare the boat, clean it, and of course fill it with beer and wine and wait his arrival.... I had not seen Lars for ages so it was great to meet up and show him to the boat. However there was little time to settle in.....we needed to go to Shirley Heights for sundowners and listen to the steel band, an institution for all on the island. Lars & I had bought matching Hawaiian shirts in Brighton just before he had returned for Copenhagen. As you can see below we had both packed them for this special day!
The first night was long and we caught up on all the gossip. Lars had some special news to share he will be a Dad in August so we wet the baby's head ( maybe a bit early but a good excuse!! )
We spent the next day touring English harbour and provisioning the boat for a cruise around Antigua and Barbuda. We left on Tuesday morning and after a short sail moored up and had lunch in Indian Creek looking up at Eric Claptons house and re-hab centre ( which would have been needed on Monday morning and most of the next week!! ) In the evening we moored at Green Island and did some snorkelling which was quite disappointing compared to further south in the Caribbean chain. However we made up for it with a great BBQ and some fine wine!!!
The next morning we started early with a hard sail on the wind to get to Barbuda, an almost deserted island under the same flag and government as Antigua. The sail was quite hard, with big seas and strong wind. This got the fish biting, however we failed to land the 3.5 ft long Dorado as it jumped off the line just before it was gaffed along side the boat.... Dinner was lost over the side :o( As we arrived in Barbuda the line shot off the reel again.... However this time we had hooked a Barracuda which is not edible in the Northern Caribbean due to 'Ciguatera', a poison that builds up in predatory fish that feed on coral fish. So it had to go back. This chap did not want to get off the hook, typical!! Eventually it was freed after the hook was removed from it large tooth filled jaws with the trusty 'leatherman' ( Far too close for comfort for my likeing! )
Barbuda was amazing, white sandy beaches as far as the eye could see and almost no one there - paradise!! The final few miles of sailing explained why!! We had to navigate our way in via lots of small coral heads. So it was sailing by colours if it's dark miss it, if it's aqua then it should be OK. Quite interesting as we had over 7 knots of boat speed with the sea following us in. All went well and soon we were swimming in an almost deserted beach.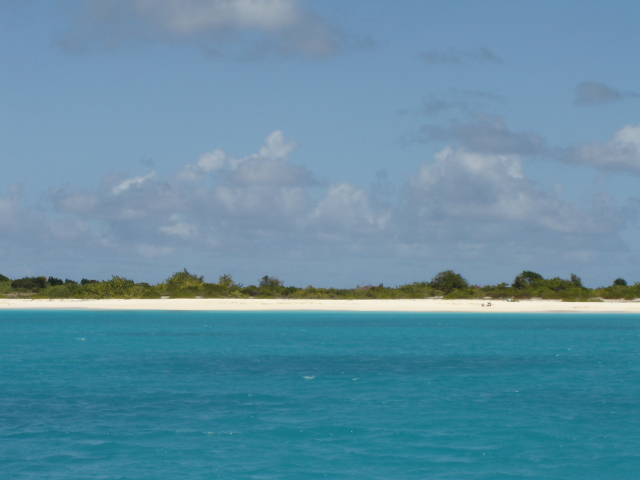 Barbuda 7 mile sandy beach
The Island is almost flat with only 1600 locals. The biggest attraction apart from the beaches are the Frigate birds. These birds are the navigators of the sky's, they are normally the first signs of land to ocean passage makers as they fly over 1000 miles out to sea in search of food. The Island has the largest colony of birds in the world, over 15000, you can visit them in their sanctuary with a local guide. So we went ashore and made the tour with a local called "The Garden of Eden" (?!). He had worked with the birds for many years and explained all about their habits including their mating habits!! Below you can see a male bird with his red 'pulling' pouch fully inflated ( No doubt he was horny! ) He bangs it with his beak to attract a mate but alas his drum like call did not work while we were there!
Male Frigate bird trying to attract a mate with his red inflated chest/drum!
The Guide " Garden of Eden " taking us around the Frigate bird sanctuary.
The next day we made our way back to Antigua, with the wind on the rear quarter we had a fast and furious sail south to Dickenson's Bay. Great sailing in sunny weather we caught 2 more fish... Both Barracuda so again we let them off the hooks and had to go into St John's the capital city for dinner. We found a good local fish restaurant to sample all the fish we wanted, this was excellent, followed by a trip to a wine bar and finally a night club and pool house, a great night, however the trip to the boat by dinghy was interesting much thanks goes to Lars who finally got me ( Chris ) back on board as I tried hard to fall in!!
The west side of Antigua was beautiful with sandy beaches and green rolling hills. We sailed west and south anchoring in Deep Bay for lunch and the chance to snorkel over a wreck of the 1905 steel boat that had burnt to the water line and sunk after her cargo of tar caught fire. It was interesting to see so much so close to the surface, Lars also saw Turtles on the way back to the boat.
Deep Bay with Lars and the wreck in the background
From here we sailed to Jolly Harbour and enjoyed some civilisation.. our first good supermarket in weeks. Poor Lars had to suffer both Jo and I running around filling the trolley with so much stuff we could not find else where. 1200 EC dollars later we made it back to the boat and ate like kings with king prawns and Angus steaks on the BBQ, followed by a night in the local bar 'Dog Watch'. Meeting up with Amanda an ARC sailor we spent Christmas with, another long night was on the cards..
A late brunch ashore, settled the heads and stomachs and we left for Falmouth Harbour for Saturday night. We had a good sail, beating up the south side of the Island between the mainland and Goat reef, strong winds and flat water, excellent. When we arrived in Falmouth we decided to go along side the dock and rub shoulders with the super yachts. We took up our mooring with millions of pounds of hardware all around. Quite a location, way out of our league but good fun.
Little and Large (not including our dinghy!!) Mixing with the big boys in Falmouth....but 2 steps from the bar!!!
Saturday night was spent ashore in a fab restaurant with friends Tim & Rowena off Emika a swan 62 FD and we tried not to talk too much sailing for Lars, sorry mate. The night was finished in a club / bar with music playing and ample amounts of beer flowing.
On Sunday ( The Day of Rest!! ) we planned a lazy lunch at Harmony Hall a restaurant with a view over Non Such Bay. The weather was amazing and we had a great meal washed down with plenty of liquid. Fantastic to be in such great places with good friends.
Lunch at Harmony Hall.
We left at 6.00 PM and headed back to the boat via a bar with a live band playing in the marina. This was another amazing reunion as Tom a guy we first met in La Coruna on the south coast of The Biscay on the trip down, had arrived the night before after a single handed Atlantic crossing of 21 days in his 34 ft long Swedish yacht an amazing achievement. We spent the evening celebrating his achievement and sharing stories.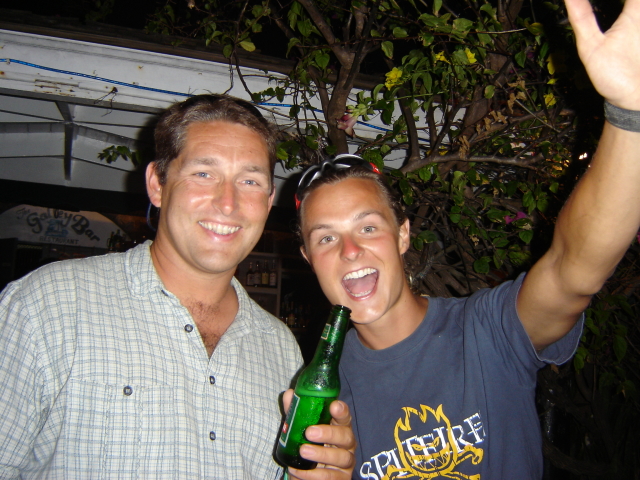 Tom the Solo Atlantic Sailor happy to be back on dry land!!
After lots of stories and beer we felt hungry again and had pizza's before returning to Lazy Dawn around 2 in the morning !!
Monday arrived and it was time to say good bye to Lars and to set sail for the British Virgin Islands to meet Jo's parents. It had been a great week with Lars, after such a long gap apart, we hope he had not been too sailed out with all the friends and sailing stories!! Looking forward to meeting you in Copenhagen this summer mate!!
The thought of the sail to the BVI was rather daunting, 30 hours plus and with a hangover and a liver better suited to Eric Claptons Re-hab retreat than passage making lay, heavy in my mind, as we waved good bye to Lars as we set sail at lunch time..
---