St Maarten 14th to 18th of February

Lazydawn
Fri 10 Mar 2006 14:34
We left Bob and Gill who were settling in to the chilled St Barths life very easily, and made for St Maarten/St Martin after a lunch stop in Columbier bay on the north east coast. We saw a nurse shark snorkelling off the boat and bumped into Tim and Rowena on 'Emika'.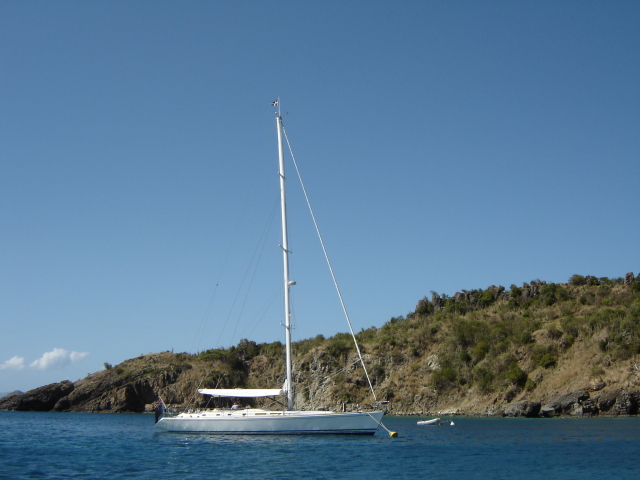 'Emika'

St Maarten and St Martin are the 2 halves of the same island. One half is Dutch (St Maarten) and the other French (St Martin). All marinas and most of the anchoring is in the huge Simpson Bay Lagoon which sits in the middle of the island so is also split in 2 halves. All marinas are on the Dutch side, but once in the lagoon you can zip around across the border in a
dinghy without any problem.

I thought St Barth was a megayacht haven but this was in another league!
A mega motoryacht - note the jet drive!!!
Megayachts everywhere!
We as a 40ft yacht could only realistically go to 2 of the 5 marinas. We chose the 4th in the league of 5 and had a great time. We found 'Jimbos' a bar and restaurant a staggering distance...... at the end of the pontoon where we spent almost every night. Thanks to Jordan a chef off a 150ft motoryacht 'Out of the Bleau' we had a long night of cocktails finishing in a late night bar with the bar girl pole dancing on the bar......memorable!!!! Strangely enough the next morning wasn't very productive.
'Jimbos' - far too many cocktails!

We found well stocked chandlers, accessed best by dinghy - far quicker going as the crow flies across the lagoon than around the edge. What a great way to do the shopping! Chris was like a kid in a sweet shop! The best chandlers since Grenada and the dinghy purchase.

Unfortunately we can't make the Heineken Regatta in St Maarten in March - another year maybe??!!

To leave the lagoon, yachts 'politely' queue (?? or not depending on your engine size!!) hovering under motor in a small channel for one of only 3 opening times. Hovering in a small area sandwiched between megayachts waiting for the bridge to open is an interesting experience......

We left on the first bridge opening at 9am on 18th February heading south for Antigua to meet Lars Chris's Danish friend.....ETA early hours of the 19th!

---