Every Cloud has a Silver Lining!!

Lazydawn
Sun 15 Jan 2006 23:18
We had our dinghy stolen!
Just a reminder of the old tender!! look at the freeboard by Chris!!
We left Union Island just after New Year for a huge sail of 4.5 miles up to Saline bay on Mayreau Island to meet up with Bob and Gill (Alter Ego) who were on their way back down from picking up their other son James and his fiancé Kate from St Lucia. It was great to catch up with them again and we jumped at the chance to join them for 'sundowners', which always involved their son Christie's cocktails :-)
4 hours later we finally thought we should leave and yep........no dinghy!! We hadn't locked it, we weren't staying for long, just a quick drink and anyway we were all sitting in the cockpit. We soon moved down below which was probably the poor dinghy's downfall. Despite Bob and Gill (thanks) getting up at sunrise to look for it, It was obviously long gone. We assume stolen.
We reported it to both the Insurance company (very easy) and the local Police Station in Union Island - a long walk, a painfully slow process and no crime number, but an education!
So we headed south to Grenada the following day in search of a decent chandlers to buy a new dingy and outboard engine.........Every cloud has a silver lining, and although initially annoyed at being without our only form of transport ashore (marinas don't exist, just anchorages) Chris began to get excited at replacing his 'Morris minor' of the dinghy world for something a little more exciting........
The 2.6m soft bottom dinghy with 3.hip became a 2.9 metre one with a fibreglass 'V' bottom with a 15hp engine!!!! Smiles all around as Chris and I took our new toy around the bay in St Georges in Grenada, planing! Now we had a vehicle not only to get us ashore but also to have fun in. In the old dinghy we used to get very wet, we would be swamped with water getting anywhere and she could barely make 3 knots. Our new toy does about 15knts! ( So now we have a Caribbean Porsche !! Your dingy is as important as your car out here still smiling = Chris )
So First day out on the water and still running here in!
St Georges water front from the new Dingy - note the rainbow, we had just got wet but we didn't care!
The new dingy did provide some new challenges as the engine weight is 4 times the old one at 34 Kgs and would need another attachment on the back of the push pit an engine crane!! ( Sorry Rob she is losing here racing lines ) But thanks to Bob and Gills donation of their slightly rusty engine host " hand me down " from the HR once re-modelled has done the trick! ( Thanks guy's )
With the dinghy sorted we moved to Prickly Bay further south. Just as we were anchoring, we were greeted by the boat alongside us with 'Do you know John Rennison?!' We still can't believe the coincidence now, but Jamie and Lucy on 'Savoir Vivre' a Beneteau First 45.5 knew of us from John who had been sailing with them last year in Antigua. We had a great few days with them. All be it a little too alcoholic!! Far too many beers and Jamie's idea of finishing the evening with a 'Talasker' was actually a whole bottle!! Thank god we had plans to cruise in different directions !! ( But it was a great time )
Their Boat bound for the Panama Canal in Feb for a circumnavigation go for it guy's
So we sailed back north for the first time in weeks and boy it was hard work big seas and wind on the nose. This was not mentioned in the brochure, but all great things have some type of tax and this is it in the Caribbean windward islands. We sailed up passed 'Kick'em Jenny' an active volcano.
Luckily no eruptions this time and we finally made land fall in Carriacou at Tyrrel Bay which you can just see in the distance behind the big rock on the left called Diamond Island and the rocks in the foreground are the Sisters. ( This picture was taken on the way down, no way was the camera coming out on the trip back up!! )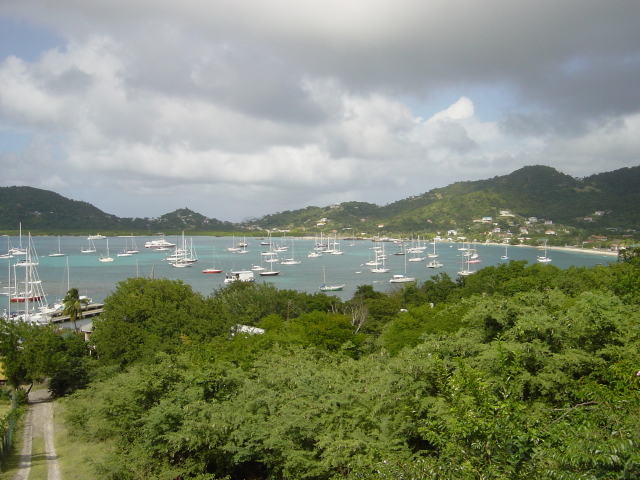 The View over Tyrrel Bay as we explored the island
We had to clear out of customs here in the next town and after asking some guy's for directions ended up getting a lift to town. The couple had moved out here five years ago from London. Not such a bad change of scenery. The island was amazing it had a different feel from some and no one was trying to sell you anything, much more relaxed than most islands. We went diving with a local school and drifted round one of the small islands in the bay it was great fun. Floating over the coral.
On Thursday 12th Jan we headed north again to Petit St Vincent a short hop of 15 miles and we were rewarded with an amazing bay!!
It was a quite wonderful place to swim!! The new dingy came into its own as we visited the next Country Petite Martinique, did some shopping for food and drinks and made it home with the eggs in tact!! There is a tiny little island called Mopion which is little more than a tennis court size piece of sand with a thatched sun shade on it. This also had to be visited and the dingy did us proud :o)
Friday we moved to Union Island to check back in through customs at the airport and the plan was to leave straight for the Tobago Cays. We bumped into a couple of ARC boats and ended up staying!! We had drinks with Ray and Brigitte on 'Out of India' an Oyster 53. A really nice couple from Brighton and its a small world. They know my ex wife Ruth and Ray plays golf with David her new husband. ( Its a small world!! ) On the way home we popped by Blasé another ARC boat just to say hi and ended up with a few more G & T's! Paul and If are amazing they have given up their jobs and taken their 2 kids Em's and Oli out of school for a year to make this trip. They are really giving their children a different experience and having to be teachers as well. We had to visit Happy Island the next day which is a Bar on a man made island on the reef. The owner Janti is a real character and talked us through his business plans and how the Island has grown from a pile of shells left over from the local fishermen.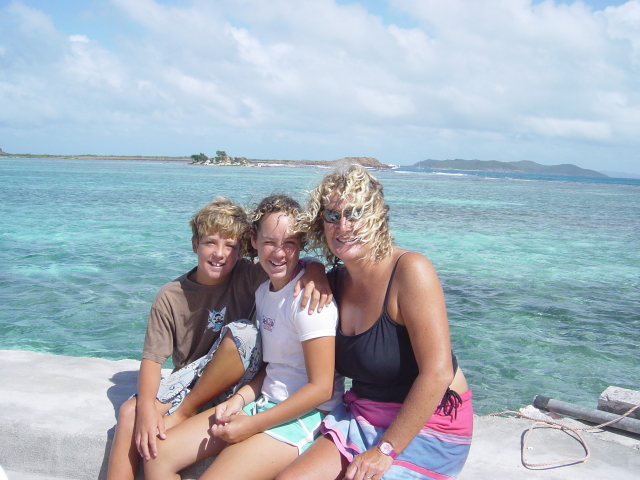 Fi, Em's and Oli on Happy Island
As you can see the weather had improved and paradise had returned it was time to move on again..
---