Martinique to Antigua 1st to 5th February

Lazydawn
Fri 10 Mar 2006 14:22
We left Martinique early keen to make some headway north and had a glorious sail to Dominica passing its Western coast to anchor in 'Prince Rupert Bay' at 'Portsmouth' by 9pm. Arriving anywhere in the Caribbean unless you are very familiar with the area is not recommended, but when it gets dark at 6pm every night sometimes it's unavoidable. Luckily this anchorage was fairly large and quiet. The radar also came into its own, displaying the anchored boats around us as we came in which helped. Dominica is supposed to be the wettest Caribbean Island with an amazing rain forest, but we decided to leave exploration for another day.......
Another early start and we made it to Isles des Saintes (The Saintes) by mid morning and anchored in a secluded bay 'Anse Fideling' on 'Terre d'en Bas' for a snorkel and lunch.
Fisher Men & Pelicans in Anse Fideling
We had a taxing 2.5 mile motor to 'Bourg des Saintes' on 'Terre d'en Haut our anchorage for the next 2 nights! A beautiful place.
Down Town Isle des Saintes
We bumped into Ray and Brigitte again from the ARC on 'Out of India' an Oyster 53, who happened to be anchored in front of us - its a small world... and as it happened to be his birthday, we had a good excuse for nice food and wine. The Saintes is a quaint set of islands, so quaint that there is often a problem with the telephone lines. Nothing worked for 24hrs, no card machines in shops and restaurants and also no cash machine, which proved interesting at the end of our meal with Ray and Brigitte. We had EC dollars, sterling and US dollars but no Euros left. But they let us leave without paying, we must have looked honest?! and we did return the next day and thankfully the lines were OK again. A strange experience.....
'Out of India' with the blue cover in front of Lazy Dawn.
We went snorkelling around 'Pain de Sucre' in the next anchorage, which had been recommended to us by Bob and Gill on Alter Ego. We took our 'high speed' dinghy and anchored - so much easier than moving the boat and much more fun......we thank again our misfortune at having the old dinghy stolen!
Pain de Sucre
We left The Saintes and made our way up to the next island Guadeloupe which is shaped like a butterfly. We had originally planned to head up into the middle of the 'butterfly' to 'Point a Pitre' where there are great yacht services and an option to pass through a canal to the north of the island. This sounded like a great adventure but the depths were a little too shallow even for Chris's comfort zone! So instead we sailed straight to the north west tip along the west coast. This proved a great decision as we caught 3 fish!!! 1 Dorado (as on the ARC) and 2 Tuna. Having not caught a single fish with Vellu and Paivi, we were suddenly overloaded with fresh protein. With cold storage an issue, we only kept 1 tuna and let the others live another day.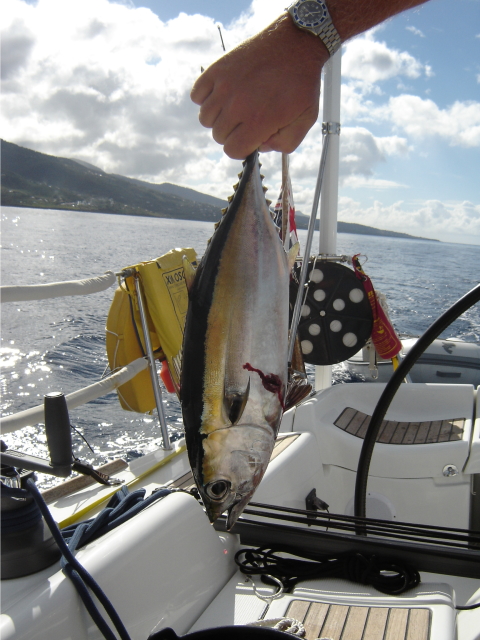 Our 'Sushi' Tuna!!
We anchored in Deshaies on the north west coast of Guadeloupe where we planned to 'check out' before getting to Antigua. 'Clearing out' papers are vital, but 'clearing in' had taken us so long in The Saintes that we hadn't managed to clear out before we needed to leave. Customs at Deshaies was even worse!!! The office is open 1 hour a day but the hour is variable!!! So after 3 visits to the office we admitted defeat and started to formulate a plan for our clearing in to Antigua........
Deshaies
We had our first home made Sushi at anchor that night. Amazing!!! We had been prepared with all components required for Sushi for weeks.......so subsequently no fish!...........until today :-) The rice consistency proved the most tricky, its all about the amount of rice vinegar you add, but not a bad first effort!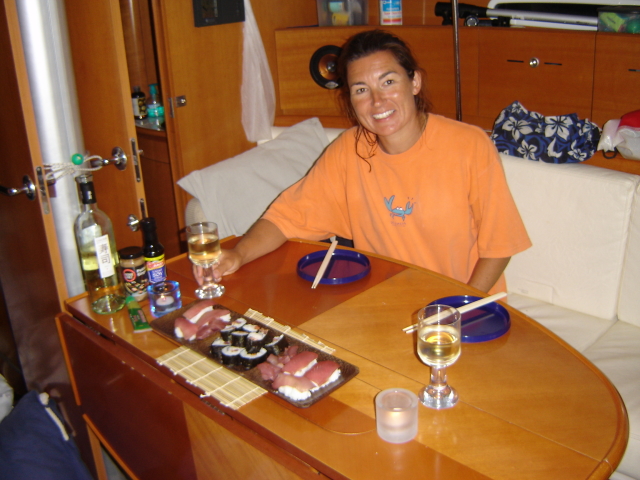 Our 1st Sushi attempt!!!

After another early start and a 7hr sail in squalls we were at anchor in Freeman Bay in English Harbour Antigua
The squalls are coming!!!
What a welcome! Bob and Gill came over in their dinghy to greet us with a bottle of bubbles! The rest of the night is a bit of a blur as the alcohol flowed as we caught up on our sailing experiences.
---