Leaving Bequia 16th January Heading to Martinique for the 20th January

Lazydawn
Fri 10 Mar 2006 01:01
The Pitons St Lucia

From Bequia we sailed to The Pitons on the southern tip of St Lucia especially to go diving, and we were not disappointed. It was fantastic. Chester the Divemaster took us to 'The Pinnacles' and 'Superman Fly'. As the sites are part of the National Marine Conservation Area the water is beautifully clear, the coral amazing and the reef fish abundant. Swimming around the underwater Pinnacles with the bottom disappearing off around you 'just like in the books'! The 'Superman Fly', not surprisingly, was a drift dive and the conveyor belt took us around the edge of The Pitons without any effort at all. The Piton has also appeared in Superman - he is filmed as flying at high speed down the fall line to the waters edge to pick a flower for Lois Lane - apparently! ( hence 'Superman Fly')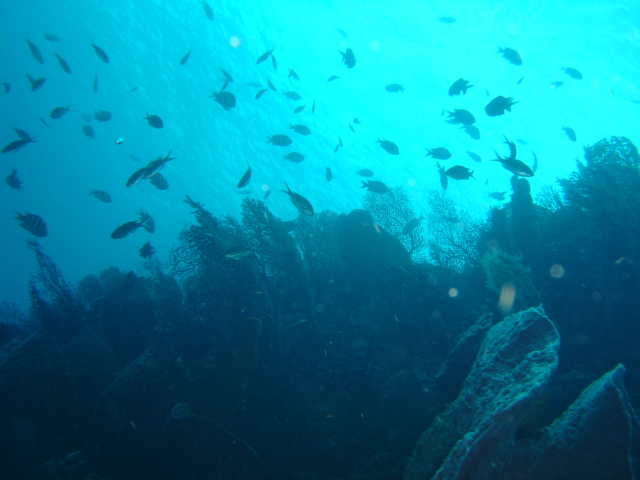 Abundant Coral and reef fish looking up - stunning!
A baby Caribbean Lobster
A 'Trunk' fish
Our next stop was Rodney Bay (the ARC landfall)
Reunion time! We met up with lots of fellow ARC participants, Tim and Rowena off 'Emika', James off 'Tai Tai', Mark and Nat off 'Free Spirit', Amanda and JB off 'Quasar'. Lots of reunions and a great time in 'Scuttlebucks' catching up, especially with Mark and Nat who were in the smallest boat in the ARC with their Vancouver 32. They had elected to start 2 weeks later to avoid the bad weather and came into St Lucia at the beginning of January, so it was great to catch up with them and hear all about their crossing and relive it all again!

We had another meal in 'The Edge' with Swedish Chef Bobo! Any excuse!!
Tim,Rowena, Chef Bobo, James, Chris and I at 'The Edge'
Tim, Chris, James and Rowena on 'Tai Tai'
After a good few days and a lot of dinking we set sail for Martinique on the 20th January to meet our first live aboard guests.......
---