Gibraltar to the Canaries 24th October

Lazydawn
Tue 1 Nov 2005 23:20
So we are back onboard after our week at home to see all the families and friends, complete tax returns and other less interesting stuff.
The Dyson package collection services had worked well and 90 Kgs of luggage came back with us including business cards, new boat name graphics, blue ensign, and new mattress for the bunks….. And the list goes on!!!
So how do we now store this extra 90 kg of stuff :o(
Not in our 90 kg but also now on board is Peter our 3rd member of crew. Peter will be with us till the Caribbean and we have all got on well as we prepare for the next leg.
We had 3 days to provision the boat, fix the new bits and pieces and repair the main sail. To achieve this we had Jo up the mast out at sea to measure the correct places for spreader patches. Plus Chris out with needle and thread to repair the leech lines. All done, we are ready to go, its been really hectic.
Working on the new boat name after the new graphics had been picked up in England
The Final result, Lazy Dawn in new battle colours and the RORC seahorse on display we think it is fantastic.
We left this morning around 11.00 after going onboard Gipsy Moth for a guided tour by their skipper Ray. At 53 Ft long she makes Lazy look big as her beam is only just 2.5m and there is no room below. But great to see the old lady back in fine shape and out at sea again 40 years after her solo circumnavigation with Chichester.
The new team after our visit to Gypsy Moth just before leaving Gib
This report comes to you from Mid Ocean. We are 15 miles south off Cape Trafalgar making 7–8 knots down an Easterly wind. Fab sailing :o) at this rate we will make land in 5 days all going well.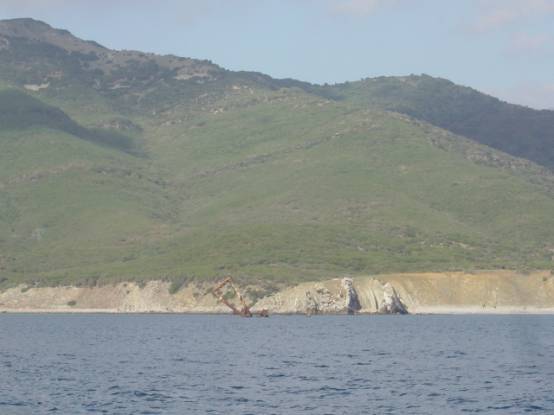 Can you see the ship wreck? (This is in the Gib straights) thank god we found north on the charts! Plus the GPS is still working ;o)
---