Re:Where are the trade winds? Day 7 Lazy Dawn's ocean passage

Lazydawn
Sat 26 Nov 2005 17:08
Hi All
Its been a fast and furious 24 hours!! 171.7 miles logged on a west / south west course most of the time with the kite up!! Max speed of 11.9 knots and little sleep on board due to the rocking and rolling as we sledge down the waves. The rig keeps creaking but stays aloft and the kite stayed in one piece even though we managed to flog it a few times in the night due to Antony the trusted Auto pilot taking a break!!
So all a bit tired due to the lack of sleep but happy with the progress made.. The kite stayed up last night due to low winds early in the evening, but this did not continue much after dark! Typical we had discussed putting up the Parasailor (a kite which is a short handed friendly weapon) but all agreed to keep up the racing code 2 light kite as the winds were light!! Once this thing is up its quite hard to get down even with a full race crew in a blow!! oh and of course it is dark here for 12 hours a day. So we hung on all night waiting for light airs or day light to finally tame the brute., day light came first and between the three of us we executed a spinnaker peel stuffing the 102 square meter kite down the hatch and all felt quite proud of ourselves as it was tamed in 20 knots of wind and we kept the whole thing dry as well :o)
Due to the rocking and rolling we had to cancel the episode of 24 last night and are all looking forward to a bumper two episode block buster tonight!! To ensure this happens we will change the sail plan early and ensure we are in total control so we can watch Jack B save the world from nuclear disaster!
Peter's Chilli last night was excellent and Jo followed up today with a Hungarian Goulash. ( even if it was made with Pork ) This is the best fed I have ever been on a boat ( Sorry Leon but we did have a gale 8 in the Biscay to curtail your gastronomic prowess, when will you come back and defend your galley crown?)
Still no other yachts in our view or VHF range at present so only the mails and SAT phone calls to keep in touch at present. Looks like we have made more progress west than many other boats deep in to 'Ellie'! our current Atlantic weather forecast region.( Actually named after Jo's sister in law, they are all women, like the hurricanes) We all hope that our plan will work out and 'Ellie' does not have a sting in her tail, we should just clear the head winds on the south side of the hurricane north west of us and finally find the predicted trade winds on Monday or Tuesday when we enter 'Kate'. But all in all its nice to have the wind off the rear quarter of the boat for a change, I will accept the rocking and rolling any day over the banging as you beat to windward in 12 foot of swell.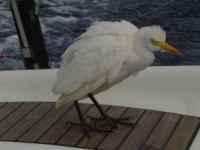 This morning as I sat in the cockpit I was joined by a guest! ( Not a mermaid as suggested by Dan!! ) It was a very tired and lonely white bird possibly a shag or a cormorant? Sorry all I can't name its exact breed but this type of bird watching is alien to me! It hung around on the helm for long enough for us to take some pictures and video. Tried to feed it but it was just too scared to eat, after about 10 minutes it took off due to a crash of the boom on the main sail. However it tried to return and made 3 failed landing approaches before leaving us for a better aircraft carrier.
The fishing tales do not get any longer; no bites today ( must be going too fast!) But we did sight a whale off the back of the boat after lunch quite impressive as it jumped clear of the waves to show off!!
We finished Dan Brown's Talking book "Deception Point" and will now wade into the 50 classic books on board so maybe we will be cultured by St Lucia!!! Please all keep in touch and keep up the SMS's and mails
---