Tavira to Cadiz 3rd October

Lazydawn
Sat 8 Oct 2005 19:49
The alarm went off at 04.30 as planned to ensure we left in sufficient water to get out; we lifted the hook and slipped away from our little sanctuary at 05.00. The river estuary was alive with little fishing boats, out to collect the morning catch. The wind was up and we set the sails with Cadiz our destination some 80 miles across the bay.
The wind increased and we made great progress slowly reducing the sail area during the morning until we reached 2 reefs in the main and most of the genoa rolled way. Speeds reached over 9 knots and all was fine until the wind shifted and we ended up close-hauled in some quite bumpy conditions. The wind finally died and we had to motor the last 10 miles to Cadiz. A fine days sailing only slightly spoilt by the swell and the need to take some seasickness pills in the middle of the passage!
Cadiz was a lovely old town with little changes from the 17th and 18th Centuries. The streets were really narrow and cars were not allowed in the old town. We decided to stay for an extra day to tour the city and do some shopping. We walked for miles, getting some well-needed exercise. We followed tour guide recommendations on restaurants, with success, but left to our own devices on bars, we were not so lucky. We thought we had found a fantastic enclave of trendy bars amongst the narrow pedestrian streets, only to realise we had stumbled on the trendy gay sector!
Cadiz tropical gardens with trees from the countries the early explorers found.
Roof top views of Cadiz from the Cathedral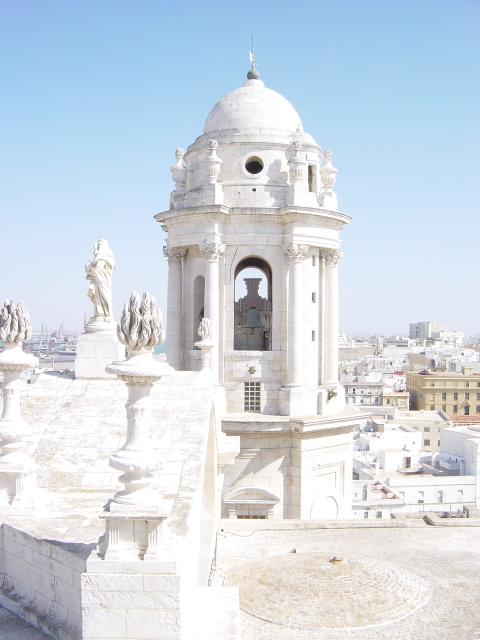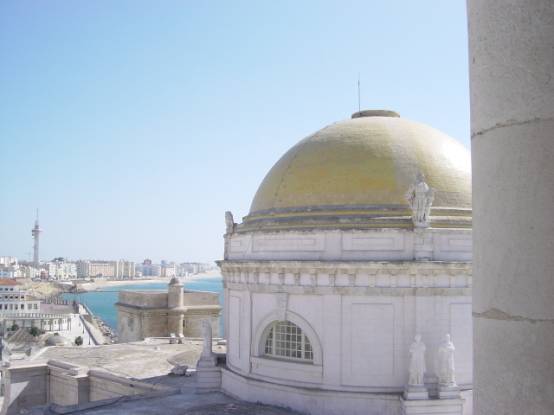 The Narrow streets in the old town
---