Merry Christmas & A Happy New Year!!!

Lazydawn
Mon 2 Jan 2006 03:29
Merry Christmas and Happy New Year!!!
Thanks for the Christmas gifts and our own nativity scene in Bequia
Fantastic little bag great for carrying the mobiles!!!


We are now definitely settling into Caribbean time and are starting to get used to the 'whole Caribbean thing'! Subsequently sitting at a lap top has lost any of its appeal, so apologies for not only lack of web updates but also email replies.

Once Peter left, we sailed off towards St Vincent and 'Young Island Cut'.

This proved a strange first stop for us and gave us and 'Alter Ego', (Bob, Gill, Chris and Catherine) taste of 'boat buoys' and business here. 'Sam and Charlie Tango fought over our business for mooring buoys and offered a strange but necessary customs service. They TAKE your passports to clear customs for you for St Vincent and the Grenadines for a fee, but it saves hugely on the hassle of getting taxis to a dodgy part of town. We all breathed a sigh of relief as the 'customs' lady returned with our passports!

After that, things have settled and we are becoming far more expert at dealing with the 'boat boys'. Often its hard to take them seriously when they drive around in colourful 15ft long speed boats with names painted on the sides such as 'Phat shag', 'Bay Watch', 'Kamikaze's!

We had a fantastic few days in 'Mustique', the famous celebrity island. It is beautiful. We anchored in Britannia Bay, the only public anchorage, in a few metres of turquoise water, overlooking a sandy palm tree lined beach, with a few colourful buildings and colourful fishing boats on the beach. Our fishing that day had not been fruitful, so we bought 'Red Snapper' and Tuna for a couple of nights BBQs with 'Alter Ego'.
Mustique water front and fish shop surrounded by a wall made of shells
Alter Ego under sail!!!

We liked this island so much we returned after Christmas with Simon and Amanda on 'Morning Calm III'.
Nice yacht Simon !! ( Morning Calm III A Trintella 65 a total monster !! )
This time we bought our first lobsters which we BBQ'd and washed down with champagne. We then went ashore to 'Basils', the famous beach restaurant for his Wednesday night 'Jump-up', full of celebs.....and yes including Mick Jagger!! What a great night, one we shall remember for a long time. Thanks Simon and Amanda.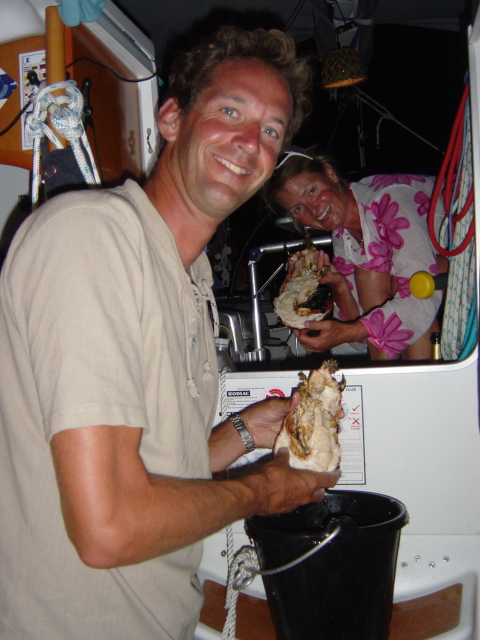 Lobsters under preparation ( Real team work both Simon and Amanda involved )
After a late start, we took a taxi tour of the island, to the gates of the rich and famous, Hilfigger, Shania Twain, Bryan Adams.....and then to the beach hoping to surf. Not great surfing, but the boys had fun 'window shopping' at the many groups of 'beautiful people' in bikinis! We finished the day with a visit to 'Firefly' THE place to watch the sunset over cocktails. When in Rome......! No famous people spotted, apparently they were all off to Tommy Hilfiggers for a party. The barman never asked the name for our tab, but wrote 'boat' - was it that obvious!!
Fish, fish and more fish!
Having supported the fishermen of Mustique so well, 'Lazy Dawn' proved herself as a fishing boat on her way to Tobago Cays! Since arriving in the Caribbean nothing seemed to stay on the hook. We assumed that our fantastic boat speeds were the problem, so had planned our best method of stopping the boat as quickly as possible, to allow Chris to reel the fish in. First a small Barracuda on the trawling line and almost immediately afterwards a Tuna! This creature gave such a fight on Chris's rod. Almost all the line was out and it fought for 30 mins! 2.5ft and about 10lbs
The operating table was the bow!!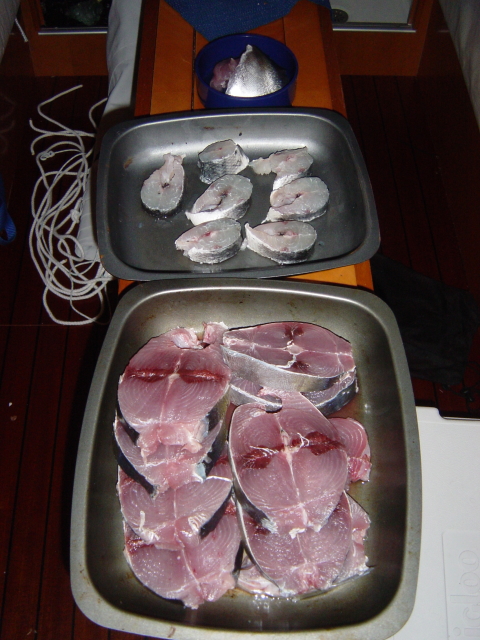 The final results!! - well it cut into 10 very thick steaks anyway!!
It tasted fantastic, marinated in lime and chilli and BBQ'd, with some left over for 'sushimi' (raw). We also had a taste of the Barracuda which is a fish to be cautious of in the northern Caribbean, as it carries a poison. In the south it is served a lot. The advice is not to eat large ones in the South as they may have swum from the north, so seeing that this was a fairly small specimen, we went ahead, although we all only had a taste!
Tobago Cays.......What can I say, but picture postcard!
Turquoise water and sandy palmy beaches surrounded by a huge horse shoe reef. Its not sheltered from the wind but the breeze keeps the boat cool and doesn't seem to affect the snorkelling visibility. Having stopped only for lunch the first time, we returned after Christmas for an overnight stay. This time we spotted two Kite surfers! So finally Chris had a reason to get the toys out and for his first time in 2 years didn't do too badly. Simon, Paul (Blonde Moment) and I stood watch from the tiny beach in case a rescue was needed, but once he managed to negotiate passing the cat that had parked on the edge of the reef he was off. He skilfully got himself to the next island (thankfully not that far away) where we picked him up. A little bruised and knackered, but grinning from ear to ear :-)

Christmas was spent in Bequia, one of the more northern islands of the Grenadines. It proved a great ARC reunion, especially with the Christmas Day BBQ on the beach. Father Christmas had bought Simon (36yrs!) a wakeboard, so the day finished with Chris speeding up and down in a 11ft rib with a 25hp engine giving instructions to Simon and then Ollie (11yrs from 'Blase' who took to it immediately!) Unfortunately Chris at ** stone proved too much for the outboard. He was so disappointed he nearly asked 'Phat Shag' to tow him. Instead he had to remain the number one driver and took me for tow! Sorry Chris!
One of the attractions of Bequia for Christmas for ARC boats each year is the midnight Christmas Eve service at the Church just off the beach. This experience will remain with most of us for a long time. The 'band' didn't turn up and instead we had a solitary trumpet to give us the first few notes. A trumpet! Not the most tuneful of instruments at the best of times. Carols we went for and carols we got. Singing after a long evening of drinking is always interesting, but when there is no organ or choir to drown the missed notes......
We managed to find a Dr to check Chris's ears again in Bequia and so he finally had the ok to dive. We fitted in 2 dives, one to 'Ships Stern' and the other to 'Moon Hole'. Chris had been desperate to try the new waterproof casing for the camera and proved its a lot more difficult to take decent photos underwater than it looks! There has been plenty to see and steadily we are getting clued up with the many different fish. We are hoping to do lots more diving as there are some great dives around Mayreau and Grenada.
Jo as the lighting Gaffer
A Shoal of Squirrel fish
We are now at anchor in Union Island where we spent New Years Eve at the Anchorage Yacht Club. The evening started on the boat with English friends at 8pm to toast UK new year with a jeroboam of champagne, nicely chilled in our newly acquired 78 can capacity cool box. It gets in the way, but it does give us cold beer and wine! Thanks everyone for the calls and texts last night, it was great. Although the food was excellent and the live music good, we felt midnight had passed and opted for a quick get away and took the dinghy back to 'Lazy' where we spent a quiet Caribbean midnight just the 3 of us!
So what does 2006 have in stall for the Dyson/Kingston team?!
Get fit and loose weight comes up for both of us every year, so today we got our trainers on and walked 10 miles around the entire perimeter of the Island, both on and off road. I doubt we will keep this up, especially as we are now sitting on the boat having a cold beer before an episode of 24.............!!
---