Bula vinaka

Casamara
John & Susan Simpson
Tue 12 Sep 2023 04:13
Bula! Bula, bula! Bula vinaka! Everywhere we go in Fiji we are greeted by these words. It's rare to pass someone without them giving a hearty greeting and we respond in kind. Notices and menus are headed with the phrases and we've got so used to saying the words ourselves I've noticed them being used even amongst our English-speaking rally fleet. Bula vinaka literally means 'the good life', which seems kind of appropriate right now, and it's a universal phrase to cover many situations. Bula vinaka can also be used to say 'bless you' or 'cheers'; bula on it's own can be 'hi', 'how are you doing?', 'enjoy your day'; vinaka on its own is 'thank you', 'that's very kind of you', etc. The term 'Bula Spirit' was adopted for Fiji's tourism campaign to indicate that tourists will receive a warm welcome and that's certainly true, ironically more so in the non-touristy areas.

The further west you go in the Fijian islands the more touristy it becomes and by the time you reach the far western islands you are firmly into holiday resort territory. Flights to Nadi (pronounced Nandi) from Australia and New Zealand are very frequent and Fiji is where Kiwis come for a bit of winter warmth. I have to say it came as a bit of relief to us too after weeks of rain and cool weather to arrive in western Fiji to find warm sunshine again.




After leaving the Lau Group in eastern Fiji we sailed for Taveuni in the central island belt. Little did we know at the time that the Fiji rugby team was on Taveuni preparing for their match against England (we lost 22-30). If we'd known that we might have been able to sneak a bit of pre-match info back to the England rugby team! Taveuni is the third largest island in Fiji and is known as the 'garden isle' for its plant life. For the first time we encountered the 'resort with moorings' concept that we later found to be quite common here. It's a holiday resort where they also cater for anyone who turns up in a yacht. Booking a mooring gives them some idea of the number of yachts that might be arriving but in practice they welcome you anyway. We spent 3 nights at the Paradise Resort on Taveuni and were encouraged to use the facilities of the resort as if we were staying in one of their rooms. It was a beautiful setting and we had some lovely meals there. The most impressive example of the Fijian welcoming culture was the member of staff, without any apparent effort, managed to learn the names of all the guests, including the ones who just turn up on yachts. We attended a 'Fijian night' with local food and entertainment and she introduced every one of the 65 guests present by name without making a single mistake.
Paradise Resort, Taveuni
From Taveuni we ventured further west to the second largest island, Vanua Levu, and a brand new marina. Nawi Island Marina in Savusavu isn't even officially open yet but they started accepting visitors a few weeks ago and we were delighted to be amongst their first guests. The facilities were very luxurious and the town of Savusavu was useful for provisioning, if not very beautiful. We spent a restful few days at the marina, cleaning and restocking the boat. We
even treated ourselves to a massage and champagne evening at a hilltop lodge.
Nawi Island Marina, Savusavu, Viti Levu, Fiji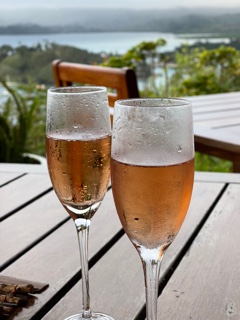 View of Nawi Island Marina behind champagne!
The rain was still with us - taking the ferry across to Savusavu from Nawi Island!
To reach the World ARC Pacific Rally's final port of call in Fiji we had to skirt around Fiji's largest island, Viti Levu, to its western side and whilst most of the boats went north around the top of the island, we went south around the bottom as we'd given ourselves a mission…..more of that later. From Savusavu we headed for a tiny island called Leleuvia where there was an equally tiny resort with a couple of yacht moorings. We booked a mooring and reserved a table for dinner. John had spied this place on the chart as somewhere likely to be good for wingfoiling as it was open to the wind but protected from the swell. And so it proved to be. It was here that he finally mastered the gybe that he has been working on and I was able to put the final touches to the 'John's wingfoiling journey' video I'd been planning to make as soon as he'd mastered the turn. If you haven't seen the video, here's the link:
https://youtu.be/UyKwszKoif8
John wingfoiling in front of Leleuvia Island Resort
Leleuvia Island Resort's website says that it provides just the right amount of life's necessities without spoiling your desert island experience, and that was true. The restaurant was a communal living space open to the elements under a huge thatched roof perched on tree trunk stilts. It served a set two-course dinner menu of soup followed by fish or meat served with boiled cassava and vegetables. When dinner was served a note was sounded by blowing on a large conch shell and the 10 or so guests gathered at wooden tables to eat. The rooms in the resort were bamboo huts with shared bathroom facilities and the island was so small a walk around the whole place would take no more than 10 minutes. In good weather it would be the perfect getaway but the wind was blowing strongly and the rain was, in John's term, 'biblical'. As we huddled in the restaurant in our coats, eating up fast so we could get back to our cosy boat, we felt for the family with young children who were there for a wet week of not being able to do much and having nowhere else to go. They were clearly feeling the strain!
After a couple of days the weather relented and we continued our voyage around the southern side of Viti Levu towards Suva, the capital of Fiji. We'd given ourselves a bit of a mission in Fiji, which was to see whether we could make contact with someone I'd worked with 35+ years ago in London. Litia had arrived in London from Fiji and we enjoyed a good few months working together in1987, but we lost touch after I left work on maternity leave. With a bit of internet searching I'd established with some certainty that she had returned to Fiji and was now living in Suva. Try as I might, though, I couldn't find a way to contact her but I thought it might be possible to work out a way once we were actually in Suva.
Suva harbour is an industrial port and not a pretty one. The entrance is through a passage in the reef which, though it is wide and deep enough for big ships, is made a bit uncomfortable due to the number of wrecked ships lying by its side. Even once through that hazard there are wrecked boats scattered around the harbour, some submerged and only marked by a helpfully placed stick. This isn't somewhere you would want to enter in darkness!
Entering the harbour - Suva, Viti Levu, Fiji
We anchored near to the Royal Suva Yacht Club - the name makes it sound grander than it actually is - and headed for the bar where I hoped we might get talking to someone who could suggest how we might find Litia. I asked at the bar but the only routes they could suggest were Facebook and LinkedIn and I'd already tried and failed through those. However, whilst away from our table for the short time needed to have that conversation, John had miraculously found a profile for Litia and her husband on Facebook. We sent a message and a minute later Litia had replied. Job done! With true Fijian hospitality we were swiftly invited to Sunday lunch and enjoyed a wonderful meal and afternoon catching up on all the intervening years.
We found her! Catching up with Litia and her husband Harry
The town of Suva was our first taste of city life for some time and it felt strange to be among so many people and vehicles again. Suva was an interesting mix of modern shopping with international branded goods and street market full of locally produced fruits and vegetables. There was a strong Indian influence to the restaurant and food stalls. At one time people of Indian origin outnumbered the Fijian population but that has now reduced to about 38% of Indian origin. Fiji Hindi is a recognised national language. Between 1879 and 1916 about 60,000 labourers came from India to work in Fiji's sugar industry under an indenture system that became a substitute for slave labour after the abolition of the slave trade. Workers were supposed to have the option to return to their country of origin but many either could not or chose to remain in Fiji when the time came.
After Suva we hopped our way along the Southern coast of Viti Levu, anchoring overnight in bays where we were the only boat. We began to wonder where everybody else was! However, rounding the corner to the west of Viti Levu we reached the waters of Nadi and checked into Port Denarau Marina where there was an abundance of other boats and people. The many islands on the western side of Fiji are home to numerous holiday resorts and Port Denarau is the transport hub for the ferries which take people to and from their holiday destinations from the international airport. During the day hundreds of people milled about amongst the shops and restaurants but in the evening it was much quieter. By chance we heard that some friends who had emigrated to New Zealand from the UK a long time ago were on a cruise ship which would visit Port Denarau whilst we there. We met up with Terry and Philip for the day, taking them out on Casamara for lunch at anchor. It was great to hear all their news and we made plans to visit them at their vineyard in New Zealand when we are there in January 2024. Fiji has certainly been the place for renewing old acquaintances!
In Port Denarau with Terry and Philip Horn
Our final few days in Fiji were spent in Musket Cove, first the anchorage where there were more fellow wingfoilers than John has seen in a while, and then in the marina where we met up again with our World ARC Pacific Rally fleet. The fleet has diminished as we have progressed across the Pacific and we said goodbye to two more boats in Musket Cove. Choucas 3 has gone into dock for repairs before continuing on to New Zealand and Berlinetta will head north to Korea as soon as the monsoon season is finished. It really feels as though we are reaching the end of the rally now. Next stop is Vanuatu and after that Brisbane, Australia. Bula vinaka Fiji! We've enjoyed our time amongst your many and varied islands.
John with his fellow wingfoilers in Musket Cove anchorage
A coral sand bank would appear in the anchorage at low tide and one day we took the dinghy to land on the sand bank. The shallows were littered with these lovely starfish.
Musket Cove Marina - we were moored about as close to the beach as Casamara has ever been!
Casamara leaving Fiji for Vanuatu
---