Blues and Blue Water Return 3

Casamara
John & Susan Simpson
Sat 12 Aug 2017 14:31
John had long contemplated the Dutch canals as an alternative Baltic-UK route. Armed with canal map, we peered at unfamiliar navigation markings and doubted a yacht with 2.2 metre draft and 23.5 metre mast made this viable. But the pilot book said yes, and as we had outwitted the low pressure, how difficult could it be? Early next morning we radioed for the first bridge to be lifted. Unfortunately it was the wrong one so we hastily apologised and scooted red-faced to the 'real' entrance nearby. From there we tagged behind other boats and learned the etiquette for the locks and lifting bridges.
We spent the night in Alkmaar; a quaint, miniature Amsterdam.
John's mother had been here shortly after WWII and we marvelled that whatever poverty she recalled encountering then, Alkmaar bore no signs of it now.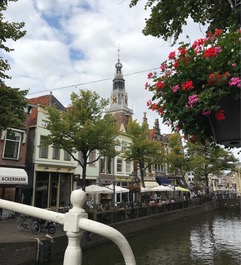 This was a prosperous place and a real treat!
---