Blues and Blue Water Return 5

Casamara
John & Susan Simpson
Wed 16 Aug 2017 20:50
Leaving Amsterdam after two days of sunshine, grey drizzle descended to match our mood. The Amstel is wide towards Ijmuiden, and not beautiful. With definite 'end of holiday' gloom, we dodged the relentlessly passing barges until we exited the lock at Ijmuiden into a calm and empty scene. Our mood soon lifted - we shook out the sails and set Casamara free again!
We made great progress into the English Channel towards Dover. With tide turning against us John retired to sleep and we slipped into our familiar three hour watches. There was plenty of shipping about at first but as night fell Casamara was alone and covered the miles uneventfully.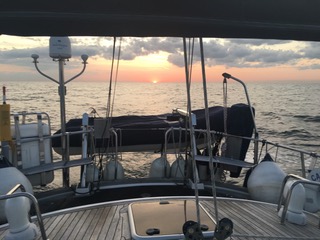 Things grew interesting after dark as we approached Brighton. What could explain the apparently empty chart versus the string of lights twinkling up ahead? Rousing John from his slumber, we puzzled until we recognised the Rampion Offshore Wind Farm ahead. Although nearing completion, it was not on our electronic charts. We skirted the outer cardinal marks sheepishly and continued towards the Owers Gap.
We debated our arrival options: either breakfast-time at Ocean Quay after solo night watches with strong winds in a busy area; or sail two-handed into Priory Bay with unlit buoys and a late but decent sleep at anchor. The latter won and we inched our way in driving rain searching for the elusive unlit marks by torchlight. We never saw them, but dropped anchor in the lee of the Isle of Wight and sank thankfully into bed at 03:00, 2 days and 270 miles from Amsterdam.
---