Las Perlas and the pelicans

Casamara
John & Susan Simpson
Tue 21 Mar 2023 19:04
What's the collective noun for a group of pelicans? Apparently it's a pod, although there are other names too - a pouch, a scoop, or a squadron - and if the pelicans are fishing as a group then it's a fleet.
We left Panama City on my birthday, 18th March, and were treated to the most spectacular sailing conditions. John was very clever to have arranged the perfect day for my birthday! The sun shone without a cloud in the sky, there was a gentle breeze strong enough to give us 6 knots of sailing speed and the sea was as smooth as could be. We had 35 miles to sail to the Las Perlas (Pearl) islands and all along the route we saw hundreds of pelicans. In the sky they fly in the V shape characteristic of the flocks of geese we see flying in the UK and chain after chain of these birds skimmed the sea gracefully across our bow all the way. As we closed in on the islands they became circling fleets of pelicans diving with a splash into the sea to catch fish. Pelicans are gregarious creatures living in large groups and they are certainly abundant here.
Pelicans diving for fish at Isla Contadora
There are over 200 islands in the Las Perlas chain but most are uninhabited. Isla Contadora, where we are now anchored, is one of the larger islands and has a number of hotels and villas where wealthy Panamians come to relax. In 1979 the President of Panama invited the Shah of Iran to shelter on Isla Contradora after the Shah had fled the revolution in his country.
We were surprised to find the island bustling with people when we went ashore and found that a week-long skydiving event was in its final few days. There's a small airstrip on the island and all day long tiny planes full of skydivers took off from the runway to deposit colourful floating canopies above our heads. We enjoyed a Mother's Day lunch at a beach restaurant watching the parachutists coming in to land on the beach in front of us. It was a spectacular sight.
Mother's Day lunch at the Pimiento Y Sal beach restaurant on Playa Larga
The fleet of World ARC Pacific boats has gathered in the anchorage for final preparations to sail to the
Galapagos islands and 27 yachts are now bobbing peacefully at anchor off the white sandy beach.
Anchorage at Isla Contadora
The World ARC team held a prize-giving event and barbecue at a hotel on the beach last night. The prizes were for Leg 2 of the rally, Santa Marta to the San Blas Islands, and Casamara came second in her group for that Leg. As we were all timing our arrivals to arrive in daylight it wasn't really a race but we won a Panama notebook and pen for our efforts!
Prize-giving and barbecue at the Hotel Mar Y Oro
Our favourite experience here has been the dinghy safari we took to one of the tiny uninhabited islands near by. Dinghies from Casamara, Jadamama, Walkabout, Mary Doll and Escapade of London carried us to a deserted sandy beach where we swam and snorkelled, before returning for lunch at the beach restaurant at Playa Larga. We all marvelled at our good fortune to be in such a beautiful place on a Monday morning rather than in the office!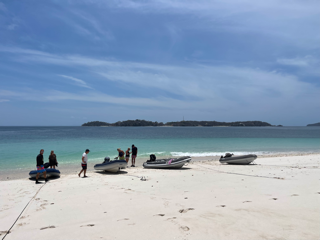 Dinghy safari to Isla Bartolome
Tomorrow (22nd March) we set sail for the Galapagos islands where there are strict rules on entry. Casamara's hull was cleaned by a diver in Panama City so we will do a quick check today to make sure there are no creatures attaching themselves to the hull since then. We have also purchased three different colours of rubbish sacks - blue, green and black - to comply with waste management regulations, and we have a list of foods that we must not have on board when we arrive in Galapagos. Checking into Galapagos means that we will be boarded for inspection and not allowed in unless we are fully compliant. It will be an interesting arrival!
---