Let the adventure begin .... !!

Casamara
John & Susan Simpson
Fri 6 Aug 2021 07:08
We posted our last blog 9 weeks ago when we were in Jersey preparing to return to Southampton to finish preparations for our world-travelling plans. The time has flown by(




We said our farewells in St Helier - here's John with personal trainer Luke Le Sueur who came to advise John on how to keep up his gym routine on board.
We left Jersey early on a still and sunny Thursday morning at the end of May, hoping that light winds might arrive later. Sadly it wasn't to be and we motored almost all the way back to the Solent, anchoring off Newtown Creek in the early hours of Friday to catch some sleep before heading back to our mooring at Ocean Quay, Southampton on the Friday afternoon.
A glassy sea on leaving St Helier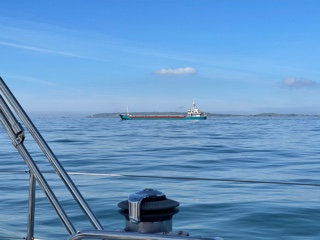 Passing between Alderney and Cap de la Hague - still no wind!
Anchored off the Isle of Wight
We spent some time in early June and again in late July/early August either being being visited by our family and friends or touring the country to see them. We had been unable to meet earlier in the year due to Covid restrictions and it was good to spend some time together before we finally set off on our travels.
On our mooring at Ocean Quay
In Cambridge
We also spent a month in Spain where John honed his wing foiling skills and I did my best to get by speaking Spanish. We were in Roses on the Mediterranean coast, quite close to the French border. In what we hope is a taste of things to come, we loved having the opportunity to stay long enough to get to know the place well. Salvador Dali lived and worked in this area and we were fascinated to learn more about him and his work.
Roses, Spain
Dali Museum, Figueres
Dali's summer residence in Port Lligat
John achieving the seemingly impossible!
In between all of this we also completed a huge number of tasks in preparation for beginning our big adventure:
- updated our sailing related training with an Ocean Safety/Sea Survival course, Long Range Radio Certificate and First Aid at Sea.
- interviewed and met potential crew to help with the Atlantic crossing later in the year.
- read and re-read the many checklists and advice for ocean crossings.
- checked, serviced and bought equipment, spares and supplies.
- tested new sails and sun awnings
- visited the Dentist.
We just have the following to complete on our final day today:
- have a haircut
- stow our food order delivery
- sell the car!
We're delighted that our friend Ian Lillington will join us this evening to sail with us for the first leg of the trip. All being well, we will leave our mooring at Ocean Quay tomorrow, Saturday 7th August, at 0800. Let the adventure begin…..!!
---