Balmy or barmy?

Casamara
John & Susan Simpson
Fri 9 Apr 2021 19:32
Day one of life's next big adventure dawned with a very loud alarm as I'd inadvertently left my phone set to maximum volume! Once we'd recovered from the jolt out of sleep we left Ocean Quay a few minutes before 8.00 am - just us, a dredger and the Isle of Wight ferry going about their business. Farewell Southampton, you've been great!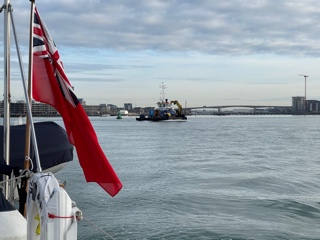 Don't let the blue sky and sunshine in the photos fool you. We had fabulous sailing weather but balmy it was not - definitely on the barmy side! John took to wearing TWO hats and many, many, many layers.
As is often the way with sailing, the wind was coming from exactly the direction we wanted to go in. The squiggle of our track on VesselFinder [
https://www.vesselfinder.com
] shows we tacked all the way down the Solent and across Poole Bay to Swanage.
It seemed fitting that Swanage should be our first stop on this particular journey. This was the scene of annual Newton/Crawford/Lathey family holidays 1970-80. It wasn't until later that we discovered John was also here holidaying every year just around the corner in Poole. We also associate the area with leading Duke of Edinburgh Award expeditions in the children's teenage years and whilst crossing Poole Bay we learned of the Duke's death. RIP Prince Philip. We will always remember this moment in history.
---