Free Willy's revenge

Casamara
John & Susan Simpson
Sat 18 Sep 2021 14:00
Back in the early '90's there was a movie called ''Free Willy' in which a young boy befriends a killer whale (an Orca) and helps him to freedom in the wild. Orcas are actually the largest of the dolphin family. Like dolphins they're highly intelligent and sociable animals living in large family groups (pods). They grow to 32 feet in length, weigh up to 6 tons and can live as long as 80 years in the wild. Keiko was the Orca which took on the starring role in the film. He had been captured as a 3 year old in Iceland in 1979 and was exhibited in aquaria and amusement parks for most of his life. He had spent 11 years in Mexico City living in a tank just 12 feet deep before being cast in the Hollywood movie, which is incredibly sad to think of when you see the vastness of his normal habitat. The success of the movie brought Keiko's plight to the attention of the world and, after a massive fundraising campaign, he was moved first to a purpose built facility in Oregon and then eventually back to Iceland where in 1998 he began training for release into the wild. In July 2002 he was finally released, but sadly he struggled to adapt to his natural habitat after so many years of human contact and support and he died in December 2003, aged 27.




John and I love it when dolphins visit Casamara out at sea and we always stop what we're doing to enjoy the spectacle as they leap and dive around the bow wave. Until 2020 Orcas never really featured in sailing conversation but since July last year there has been a series of worrying encounters between Orcas and yachts sailing off the Atlantic coast of Spain and Portugal - worrying that is if you're a yachtsman! In each case individual yachts have been approached by a small pod of Orcas, but whereas smaller dolphins rarely make contact with the boat and are no real threat, these Orcas are making a beeline for the rudder, biting it and repeatedly ramming the boat. Damage to the rudder is a serious issue, either causing loss of steering or, worse, leaving a nasty hole in the bottom of the boat where the rudder used to be! No-one knows why the Orcas have started doing this but I can just imagine Orca folklore remembering Keiko and deciding to get their own back on humans for the sake of Orca-kind.




So, there we were sailing the Atlantic coast of Spain and Portugal keeping a very close eye on the Orca Iberia website

https://orcaiberica.org

. Any yacht coming into contact with the Orcas is encouraged to report the incident through this site so that the Orcas can be studied and there's a central repository of information on where the Orcas appear to be. We had planned to be in Cascais for only a few days before moving to Sines and then down to Lagos. This would be a little bit of a detour on our trip to the Canary Islands but we were interested to see Lagos as it is a potential place to leave Casamara next summer. However, the day before we were due to leave Cascais it became clear that the troublesome Orcas were in the vicinity. There were reports of Orca contact from yachts between Sines and Lagos, and we weren't keen to get into a tussle with a 6 ton dolphin unless it was strictly necessary! We therefore opted to give Lagos a miss and wait in Cascais until we could go direct to Porto Santo and Madeira. It proved to be the right choice because there were reports of two yacht/Orca encounters between Cascais and Sines on the day we would have made that journey.




The wind normally blows from a northerly direction down the coast of Portugal, which is a perfect direction for sailing to Porto Santo. However, the winds were unusually coming from the south for a good few days so we were in Cascais for nearly a fortnight in the end. We left in company with yacht 'Walkabout' as soon as the wind backed to the North East and the trip to Porto Santo took us exactly three days non-stop. Casamara once again coped admirably with the high seas and the trip was uneventful, except for some very sloppy seas in light winds during the second night of the passage. On watch around midnight I got very frustrated that the wind would not settle into a direction that kept the boat relatively stable and shouted 'will you just stop it!' in my best cross voice. It didn't make any difference but it made me feel better!




Porto Santo was absolutely beautiful, with crystal clear blue water and miles of fine yellow sand stretching along the southern side of the island.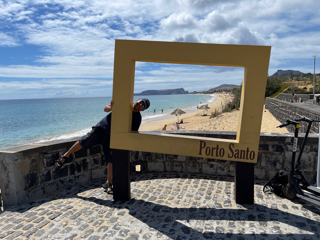 We were only there for a day but it's amazing how much you can see from an e-scooter and it's not a very big island. We concluded that next time we come this way, we'll stay a bit longer….
---