Then there were four...

Casamara
John & Susan Simpson
Sat 18 Feb 2023 01:58
During the early summer last year we started to think about the next stage of our journey, crossing the Pacific Ocean, and whether we would have crew on board to help us or sail with just the two of us. In the end we decided to find a couple to come with us from St Lucia to the Marquesas Islands in French Polynesia. That stretch includes the passage across the top of South America to Panama, the transit through the Panama Canal and the longest 'at sea' part of the journey, 3,000+ miles from the Galapagos to the Marquesas Islands in French Polynesia, so having two extra pairs of hands makes good sense. We asked for volunteers on a website called Crewseekers and set out what we were looking for - a bit like online dating! We ideally wanted a couple because that suits the configuration of the boat, and they also needed to be experienced sailors, available to travel with us from February to May, and not mind living in close confines with us for that amount of time. Surprisingly, despite the latter requirement, we had lots of interest!
After a period of Zoom calls and face to face get togethers, we made our choice and finally welcomed Claire and William to Casamara in St Lucia this week. We will be a multi-national boat for a while as Claire is French and William is Dutch. Both speak very good English but we have promised to try to improve our French ready for French Polynesia by trying to speak only French on one day a week. We'll see how that goes!
The new Casamara crew.
We're enjoying getting to know Claire and William and introducing them to the other 27 boats and crews in the World ARC Pacific Rally from St Lucia to Australia. There's lots to talk about and much excitement in the air as we all get ready to leave St Lucia bound for our first stop in Santa Marta, Colombia. We've spent the week attending briefings, buying food, pre-preparing meals, doing our safety checks and had a practice sail to give Claire and William an understanding of how Casamara operates. We've had a lot of fun and it's been hectic getting everything ready but we think we're almost there. Just a few final jobs to do in the morning before we head out of the marina and into the Caribbean Sea for the rally start at noon.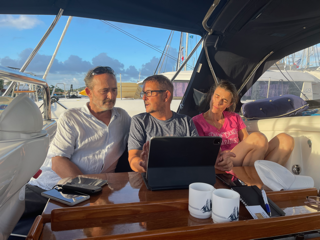 John explains how we plan our passages with the latest weather information.
Claire takes the helm for the first time
If you followed our progress across the Atlantic in 2021 you might like to do the same again as we cross the Pacific. We will have a tracking device on board and from Saturday 18th February at 12 noon St Lucia time (4.00 pm UK time) you'll be able to follow us either on the World Cruising Club website or in the YB Races app. For the website go to
https://www.worldcrusing.com
. From the Menu choose Rallies, then World ARC and use the Fleet Tracker tab to find out exactly where we are. Our event is called the World ARC Pacific 2023. If you're using the app, once you've downloaded it you need to choose add a race. From the list available choose World ARC 2023 routes and this will give you a choice of three fleets to follow. Ours is the World ARC 2023 - Pacific. In the meantime you can also take a look at Claire and William's website:
https://www.traversee-des-oceans-2023.net
Claire and William had a surprise for us on our first evening together. We were discussing plans for when we arrive in Nuku Hiva and their time with us comes to an end. They have decided that such an epic adventure needs a suitably epic conclusion and have applied to get married in Nuku Hiva! How exciting is that! Sadly we won't get to see the wedding as they have to be in French Polynesia for a month and 10 days in order to qualify for the right to marry there, and we will have moved on by then, but that won't stop us celebrating with them along the way I'm sure. Congratulations Claire and William!
---