Going out to see the people

Casamara
John & Susan Simpson
Sun 23 May 2021 13:30
Years ago, when John's granny was living close to John's parents in a Lincolnshire village, she used to go on the bus to Louth, the local market town, every Saturday morning and come home saying how busy it was and how many people were about. John's father used to despair and could never understand why she didn't go on a weekday morning when there were more buses and she could have the town centre to herself! Her response was always that she liked to go on Saturdays so she could 'see the people' and I remembered this last week. We'd booked a table at a restaurant, St Helier was bustling and there was a real party atmosphere as people headed into town for a Friday night out. I don't know whether it's the after effect from Covid isolation or that we are adjusting to life without the rhythm of a working week but going out to see the people on a Friday or Saturday night feels good. Somehow Tuesday or Wednesday just doesn't feel quite the same. Mrs Simpson Granny (as she was known) would be very proud of us!
The flip side of this is that it's also exciting to do something we would never before have had the time for during the week. So we had a Friday afternoon late lunch (basically the whole afternoon!) at the beach restaurant of Mark Jordan, the local Michelin starred celebrity chef. The food was totally delicious, and the setting was fabulous too.
In my mind I had pictured us having a nice saunter along the beach in the sunshine before lunch and sitting looking glamorous at one of the outdoor tables admiring the view whilst we indulged our taste buds. In fact it was blowing a gale, directly from the direction of the restaurant, which was an hour's walk away. So we battled into the wind, a type of route march with resistance training built in, the fine sand blowing off the beach into our faces all the way. Couldn't see a thing as we were walking with eyes squeezed shut and couldn't talk without chewing on a mouthful of grit. The first thing we had to do when we got to the restaurant was to wash our faces and brush sand out of our ears, but on the plus side we just saved a fortune on facial skin dermabrasion treatment!
You might be thinking that all we do nowadays is eat out but that's not quite so. John has been continuing with his mission to master both the foiling board and the wing, so there have been a few visits to the beach with the kit. The weather has continued to be windy and cool but we have found a corner where we can pitch camp out of the wind and it has been warm enough to sit there in the sunshine.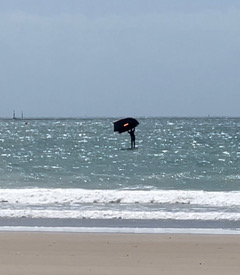 We've also had boat jobs to do. John has been working on the dinghy and getting that ready for when we are at anchor rather than in a marina. We have a sewing machine on board for sail repair work (which hopefully we won't need). I extracted it from it's deep storage this week - a workout in itself! - and set about some jobs. No, I'm not making a pair of tiny leather trousers….
….it was actually a device for protecting the top of the outboard engine from damage from the metal loops of the engine hoist which we leave permanently on.
It looks as though this will be our last weekend in Jersey for the time being. We have been watching the weather for the right conditions to return to the UK and it currently looks like Thursday will be the day. The prevailing wind is usually South Westerly and since we've been here they have produced a whole series of depressions and unsettled weather. Now we're ready to return back to the UK the North Easterlies we had in April have returned and that's exactly the wrong direction for a comfortable trip back! So we'll have to leave later this week on the last of the SWs before the NE wind sets in. All being well, we'll be back in Southampton again for June/July before setting off to sail south.
---