The Marquesas

Casamara
John & Susan Simpson
Sat 20 May 2023 17:44
When we were cycling around The Netherlands last June we had many a chuckle over the number of vowels the Dutch can fit into a word. I have to say that the Polynesians take it to a whole new level and have words almost entirely made up of vowels! The town of Taioah'e, for example, where we anchored on Nuku Hiva, or the island of Oa Pou we passed on the way from Hiva Oa. Each vowel is enunciated separately when spoken which gives a rhythmic sound to the language.
French Polynesia covers an area of the globe equal to the size of Europe but is made up of hundreds of tiny islands scattered across the South Pacific. The Marquesas islands was the first archipelago we encountered after covering three thousand miles at sea and we were mightily pleased to see the islands rising majestically from the sea as we approached. The volcanic Marquesan islands are stunning; mountains rising steeply out of the sea, covered in lush green vegetation and with steep winding ridges of dark rock spreading out from around the mountains like tree roots from a trunk. Between the ridges lie green valleys of palm trees and in some of the valleys a few buildings form villages on the flatter land close to the beaches. Some of the rock formations are quite incredible, almost like fairytale castles constructed for a Disney filmset!
Typical Marquesan island scene
We visited three of the islands: Hiva Oa, Tahuata, and Nuku Hiva, and toured with local guides on two of these. On Hiva Oa our guide was a young Parisian man called Joan (pronounced HoAn) who had fallen in love with the island whilst visiting and had since moved there permanently, whereas on Nuku Hiva our guide was Mate (pronounced MahTay) who was Nuku Hivan born and bred. It was interesting to hear the two different perspectives of life in this most remote of places.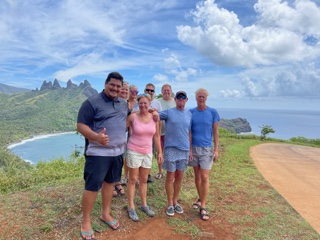 Mate and fellow ARC crews from Mary Doll and Into the Mystic. Disney fairytale castle in the background!
There were fewer settlements on the islands than we had anticipated but there are very few people: only 2,500 people on Hiva Oa, 650 on Tahuata and 3,000 on Nuku Hiva. 90% of the inhabitants originate from the Marquesas and only 10% from elsewhere, predominantly mainland France. Mate explained that everyone on the islands knows everyone else and the families within each valley can be inter-related. Families encourage the young people who have to travel to Tahiti or further afield for the final years of their education to find friends who are not from the islands but Mate explained that being away from home makes that difficult as the young people find comfort in the company of other Marquesans like themselves. Joan laughed as he described how fathers with daughters of a similar age to himself would seek him out to make sure they were introduced. The prospect of marrying their daughter off to an 'outsider' who planned to stay was just too good an opportunity to miss!
There is no personal income tax in French Polynesia and Joan explained that many people live on what they find to eat on and around the island so have no need for income to afford to eat. They grow fruit and vegetables in their gardens, take fish from the sea and shoot wild goats and boar for meat. We saw beautifully kept gardens with trees laden with mangoes, cashew nuts, breadfruit, bananas and giant grapefruits as big as footballs! We were introduced to a fruit called the Noni, which grew in abundance, but the Noni fruit's smell was so disgusting we couldn't imagine eating it - not for nothing is it also called the Vomit Fruit! Apparently it makes a nice fruit juice - no thanks!! Joan gathered armfuls of the giant grapefruits for us to take back to the boat and we have been eating them ever since. They're delicious kept in the fridge so they're chilled and juicy when we eat them. Surprisingly, there were few items of fresh fruit and vegetables to buy in the food stores, presumably because the locals wouldn't bother buying them. Other goods were very expensive so it's a good job there are free alternatives. As an example, a large bag of John's favourite crisps was 950 French Polynesian Francs, about £7.11! Alcohol is also very expensive as the tax that is not taken from income is instead added to alcohol and vehicles. Lucky that we stocked up in Panama!
Bananas growing in a garden
The day we arrived in Nuku Hiva was a good one for the local people as the cargo boat was in. The boat does a circular route from Tahiti around the islands large enough to have a dock for unloading and the arrival of the boat every two weeks heralds the restocking of the islands' stores and delivery of long-awaited items. Joan was looking forward to having a fridge again; his old one had failed six weeks ago and unfortunately the supplier had forgotten to put it on the last cargo boat so he'd had to wait for the next. Most of the islands also have airstrips so air freight from Tahiti is also possible, but more expensive than waiting for the boat. It felt a very long way from our world of on-demand consumer goods.
All around the islands are Tikis - stone or wooden statues that have come to be an emblem of French Polynesia. The sculptures represent important spiritual or symbolic forces and originate from New Zealand's Maori tradition. Below is the 'smiling Tiki of Utukua' on Hiva Oa. Unusually this is a female figure (most are male) and is thought to represent the leader of an all female tribe of healers. We also visited a workshop where Tikis are carved today and got into conversation with a young man who was from Pitcairn Island and very proud to be a direct descendent of Fletcher Christian.
The smiling Tiki of Utukua. I did wonder whether this figure inspired the creator of the Minions!
Hiva Oa was the final resting place for the artist Paul Gauguin and, having fallen in love with Vincent Van Gogh's work last summer, we thought it only right that we pay a visit to the Gauguin museum in downtown Atuona. I don't think we were quite as captivated by his work as we had been with Van Gogh but the paintings were reproductions and the museum quite basic so maybe that explains it. The naked female flesh of his paintings and naming of his home 'The House of Pleasure' seemed at odds with present day French Polynesia where the Church has a very strong influence. We saw tiny chapels evidently in regular use in even the smallest of settlements and large churches in the bigger villages. The Cathedral in Nuku Hiva was beautiful and an interesting mix of indoor and outdoor spaces. It was amusing to read the noticeboard and see that they were very much as we would see at home; details of the week's services plus requests to book spaces for the forthcoming Parish outing or prayer group. Joan commented that even as a newcomer he was expected to be at Church on Sunday, or to have an acceptable explanation if not.
Nuku Hiva Cathedral
There is a real sense of pride in the Marquesan islands that is evident from the way they are kept. In stark contrast to the Caribbean islands we saw no rubbish lying around, no abandoned vehicles rotting by the side of the road and even the poorest looking properties sat in well-kept gardens. Maybe the shadow of slavery still hangs over the Caribbean islands so that the people there don't feel the same sense of ownership and belonging. Marquesans are certainly proud of their musical heritage and treated us to some joyful singing and dancing. On a visit to the shops in Taioah'e we were just commenting on the absence of bars in the town and wondering what people do to gather with friends when we came across a group of 5 older gentlemen sitting in a circle playing ukuleles and mandolins. They were singing in harmony at the top of their voices and skilfully jamming together, their grinning faces showing just how much they were enjoying themselves. It was a delight to see and to listen to.
Learning to dance Marquesan style
Aside from the drums and mandolins, the sound of the Marquesas would have to be a combination of bird song, crowing cockerels and bleating goats. The bird song sounded surprisingly English, more twittering lark than tropical parrot. Feral chickens were seemingly everywhere, emerging from the undergrowth and crossing the road with gay abandon! Mate was asked whether the chickens were caught for food but he looked a bit dismissive when he said 'Yes, but they have no meat so it would only be a snack'! Apparently the chickens' main role is to eat bugs and there are certainly plenty of those. We went on a jungle hike to see one of the tallest waterfalls in the world and returned with enough mosquito bites to prove that the chickens still have a lot of work to do!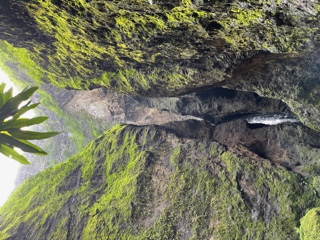 The bottom of the Vaipo waterfall … so high we couldn't actually see the top from here!
The Marquesas archipelago has certainly been one of the highlights of our trip so far. Next stop …. The Tuamotus.
---