Galapagos

Casamara
John & Susan Simpson
Wed 3 May 2023 04:12

We look back on our time in the Galapagos Islands with mixed emotions. It was from there that we flew back to the UK to attend the funeral of John's Mother, a not insignificant journey but one which we were absolutely determined to do. With three flights each way we flew from San Cristobal Island to Guayaquil in Ecuador, then Amsterdam and finally London Heathrow. On the way back we came through Bogota in Colombia instead of the Amsterdam leg. We had been a bit dubious about flying through Guayaquil, having never heard of it, but what we'd imagined to be a small provincial airport in the back of beyond turned out to be a brand new international airport the size of Gatwick, and very efficiently run. Out of the total journey time of just over 24 hours each way the only delay we experienced was the British Airways flight to Heathrow from Amsterdam - the 45 minute flight was delayed by an hour due to strike action at Heathrow! We were home for a week and in that time managed to see all our family as well as attending the funeral to celebrate the life of Cynthia, John's Mother.
Whilst we were away we were very grateful for the support of our World ARC Pacific fleet friends, particularly from Mary Doll, Walkabout and Into the Mystic, Amy from Mary Doll agreed to be skipper of Casamara for the week and with the help of Traci from Walkabout the 'Casa Chicas' moved Casamara from San Cristobal to Santa Cruz Island within the Galapagos chain so that Casamara kept up with the rest of the fleet whilst we were away. We were able to track Casamara's position on the YB tracker app and it brought a tear to the eye to see Casamara safely anchored in Santa Cruz in the middle of a protective triangle formed by Mary Doll, Walkabout and Into the Mystic. What a wonderful team! We were moved by the number of people who wished us well for our journey home and asked if there was anything they could do to help. This is a very close-knit group now and we felt well supported.
Taking a yacht into the Galapagos is a complicated business and this was one of the reasons why we were keen to do it with the support and knowledge of the World ARC team. We spent a long time preparing for arrival, including spending two hours scrubbing the soles of every pair of shoes on board to ensure we were not taking foreign soil into the islands! Casamara's hull was scrubbed clean by professional divers, we ensured we weren't carrying any forbidden foods such as raw meat, blackberries, pineapples and eggs, we made sure we had eco-friendly cleaning products on board and we displayed around the boat numerous signs indicating what to do about recyclable and non-recyclable waste. On arrival, check in was a tortuous process as the Galapagos officials struggled to visit each of the 27 boats in turn. Fortunately we were early arrivals and our wait was only a few hours; some of the later boats waited over 24 hours for their turn. A veritable army of officials visited the boat, including divers inspecting the hull for signs of weed or barnacles. Some of the checks seemed a little strange - why take a photo of our bed for example? Did they expect to find something hiding in there? I was particularly disappointed that my sparkling shoe collection remained unseen in the cupboard!
Galapagos officials checking us in
The history behind most of the other places we have visited since we crossed the Atlantic has been very similar: early inhabitants were Amerindians, then along come the European explorer/invaders who mostly wipe out or enslave the people and replace the culture with their own. The Galapagos Islands are unusual in that human inhabitation didn't occur until 1832. Until then the animals and birds had the place to themselves and they do seem remarkably unafraid of people as a result. It was an amazing experience to arrive in San Cristobal in the dark and to peer into the water after we had dropped the anchor to see a pair of big sea lion eyes looking curiously back up at us. From the moment you step ashore in San Cristobal the sea lions are keen to show you that they were here first, lolling and flopping about all over the jetty steps and on the sea front benches. With their doleful Labrador eyes, strong fishy smell and impressive array of loud belching noises they are both endearing and amusing.
Sea lion in San Cristobal
Having gone to so much effort to be eco-friendly in the Galapagos we were a bit disappointed to find litter in the streets, oil spilled on the roads and a complete lack of eco-friendly products in the supermarkets. The sea front in San Cristobal reminded us more of Weymouth than the eco-wilderness we had expected. However, we didn't have chance to visit some of the more remote islands and those of our friends who did were impressed by the wildlife to be seen both on land and in the sea. On our return from the UK we enjoyed a couple of days in Santa Cruz, including a scooter safari to see the island.
Paying to get into the tortoise ranch
We saw some of its volcanic features and braved an underground lava tunnel walk before visiting a sanctuary for giant tortoises. We were fascinated by these impressive creatures lumbering around the landscape. It occurred to me that these wild animals must be among the safest to mix with human visitors. Not only do they move so incredibly slowly that no visitor is ever likely to be hurt by one, but the animals themselves are so encased in armour plating that the visitors can't harm them either!
We loved the Galapagos for the sea lions, giant tortoises, marine iguanas and tiny finches. We liked the goal of preserving the islands as a unique habitat but we were unconvinced that the bureaucracy we witnessed would achieve this, acknowledging that the authorities have a difficult balance to achieve between maintaining that habitat and developing tourism as their main source of income. Our check out from the Galapagos required another 'inspection', thankfully with only four officials this time: one agent to make sure the process went smoothly, one to give us our exit forms and passports, one member of the Ecuadorean Navy with no apparent role in the process and one to take photos of the inside of the fridge and another of our bed (still nothing hiding in it!). Five minutes later we were free to leave. Next stop the Marquesas Islands, French Polynesia 3,000 miles away and our longest non-stop voyage yet.
Oh, and by the way - during our voyage to the Galapagos Islands we sailed across the Equator! In time-honoured tradition we had a ceremony led by Neptune and toasted him with rum.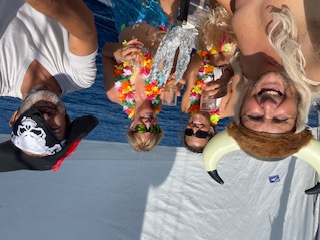 ---