Following Captain Cook

Casamara
John & Susan Simpson
Mon 3 Jul 2023 01:45
Captain Cook visited and named the Society Islands on the first of his three voyages to the South Pacific. In his journal he wrote that the name came from the fact that the islands were 'contiguous to one another' as they're stretched out in a line, however some people suggest that the name also honours the Royal Society which sponsored his voyage. The mission for Captain Cook's voyage, which left England bound for the South Pacific in August 1768, was to reach Tahiti in time to witness the transit of Venus in June 1769. The Royal Society hoped that scientific observations would help to quantify the Earth's distance from the sun. It just so happened that the British government was looking for a way to send a secret expedition to the South Pacific to look for the new continent believed to be on the other side of the Pacific and the Royal Society's request for help with scientific observations provided the perfect cover. Captain Cook was a Royal Naval officer with training in other sciences, including cartography and he was duly despatched to fulfil the Royal Society's request and with a packet of secret instructions not to be opened until after the astronomical event. Other European powers were also on the lookout for new lands across the Pacific but such was the international interest in the transit of Venus that the French government instructed its warships not to interfere with Cook's voyage and he was able to sail for Tahiti, and more importantly beyond, unhindered. Unfortunately, the scientific instruments of the day were not up to the task of recording accurately the position of Venus on the given day and the observations were largely useless, but Cook's further travels to New Zealand, Australia and other parts of the Pacific were immensely valuable to the British government and his meticulous chart work brought with it knowledge and further opportunity. We're still benefitting from his work with our travels today.
We spent 10 days enjoying the bright lights of Tahiti before we set sail for Moorea and Cook's Bay where we picked up some diesel at what must be the most picturesque fuel dock in the world!
Ian Lillington and John refuel Casamara
You would think that Cook's Bay was named so because that was where he anchored when visiting Moorea but no, he anchored in Oponohu Bay half a mile around the corner where we also spent a couple of nights at anchor.
At the beach in Oponohu Bay for sundowners and games with other rally boat crews
Wading in shallow waters in Moorea with Rays and Sharks
A long day sail took us west to Huahine where we anchored and went ashore to explore the little town. Having left the more well known islands of Tahiti and Moorea we weren't sure what to expect of Huahine. It turned out to be a spectacularly beautiful island with mountainous green interior rising from clear blue waters within a coral fringed lagoon. The town was equally picturesque and had a range of shops too. We particularly enjoyed dinner at the Huahine Yacht Club and the view from its tables.
Sunset from Huahine Yacht Club
From Huahine it was a short hop across to Raiatea and another gorgeous lagoon waiting to be discovered. We had a few heart stopping moments getting to our chosen mooring spot as we had to thread our way through narrow channels between coral reefs with the only indication of safe water being the depth of its blue colour. The deeper the blue, the deeper the water! Once we were in position on our mooring the protection from waves given by the reef provided the perfect opportunity for John to zip about on his wing foil board and the rest of us to enjoy some snorkelling.
Captain Cook had been to both Huahine and Raiatea before us. His third and final voyage to the South Pacific repatriated a young man called Omai from Raiatea who had returned to England with one of Cook's ships a couple of years earlier. Omai spent two years being introduced to high society in London and was apparently much admired for his charm and exotic good looks. In 1777 Captain Cook returned him to Huahine and provided him with a European style house complete with servants. Sadly Omai survived only two more years and died in Huahine aged in his late twenties.
We had some repatriating to do on our next island, Bora Bora. Ian and Sue Lillington had been with us since Tahiti but were flying home from Bora Bora's tiny airport. We were all looking forward to seeing this jewel in the crown of the Society Islands and it was certainly an impressive sight as we approached, with its turquoise blue lagoon edging the mountainous central island.
Approaching Bora Bora
Before Ian and Sue left us we managed to pack in some sightseeing, hiring motor scooters to tour the island.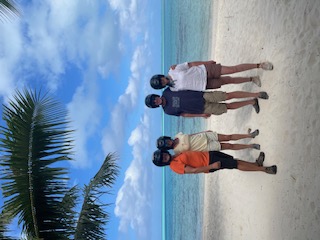 We loved this photo which looks as though the four of us have been photoshopped onto an idyllic canvas background. I promise you this is a real photo, taken on Matira Beach, Bora Bora.
Initially John and I were underwhelmed by Bora Bora after all the other islands we'd visited. It's known for its exclusive hotels with over water bungalows but there are so many identical looking OWBs that we christened it Milton Keynes on sea! So many of the OWBs are empty and even falling into disrepair that we wondered how much of that is the aftermath of Covid. The island is so small and the marine environment so precious that I hope the accommodation is never full to capacity. I don't think the island would cope.
It's fair to say that Bora Bora grew on us and we certainly appreciated its crystal clear waters and marine wildlife. As John and I were there nearly two weeks we were able to see everything there was to see and sample the local culture by attending a Heiva. This is an annual competition of dance and music where each village works together to produce their different offerings.
Bora Bora Heiva 2023
Our favourite outing was to the Bora Bora Naval Museum. This was a collection of hand made scale models of maritime craft with links to Bora Bora and we had an interesting chat with Bertrand who had made the models. There were even models of Captain Cook's ships.
Bertrand's Musee de Marine. He even let us charge our scooters while we were there!
It was from Bora Bora that Captain Cook sailed to look for Terra Australis in August 1769, just as we are doing now. Sadly we will not stop at the Cook Islands, which were to be our next stop, as new rules just introduced by New Zealand immigration make checking in and out very difficult. So we will pass the islands by on our way to the island of Niue, a thousand miles west of Bora Bora.
As Captain Cook sailed away from Bora Bora the first anniversary of leaving England was marked. Sir Joseph Banks, who accompanied the voyage as a naturalist noted in his diary…
was this day a twelvemonth since we left England, in consequence of which a peice of cheshire cheese was taken from a locker where it had been reservd for this occasion and a cask of Porter tappd which provd excellently good, so that we livd like English men and drank the hea[l]ths of our freinds in England"
We loved the notion of the men far away on the good ship Endeavour enjoying tastes from home, just as we did with our requests to Ian and Sue who left tea bags, Cadbury's drinking chocolate and Branston Pickle with us from England to supplement supplies in Casamara. They also brought our new Starlink, satellite communications system - courtesy of Mr Elon Musk. We can have internet access anywhere at sea so hopefully our communications with you all will be much easier now. I did wonder what Captain Cook would have made of the Starlink system?
---