Atlantic Crossing Part One

bwone
claudiowider
Fri 7 Dec 2012 18:14
The Crossing,


The original set off had been scheduled for Nov 25th. However, due to a very strong SW 20/25 knts wind(and seas) organisation decided to postponed it till Nov 27th, not a great change as we will see later on.

The departure date was even windier but coming fm the right direction, NE.

By 1100 am we were off and started our journey.


one hour later, sailing in front of LP airport on already 20 knots wind.



few hrs later the bad weather arrived and was not going to give us a break for almost seven days. Stuart was a great support all the way through.


Crew resting
being forgiven for having got her in the crossing!!!!!

These first 7 days were pretty the same.

Winds from the NE, ranging fm 20 to 26/8 knots. High seas( up to 8 mts waves) , rain coming quite regularly.

Very interesting sailing though. Except for Stuart and myself the rest were sea sick but they managed to do watches or help till they find their see legs a couple of days later.



We always had a reef or two and we were averaging 7.5 knots, with highs of 15.9 knots surfing speed Very thrilling!!!!!!!!!!!!
.
The boat handled magnificent , all the way I felt as we were well taken care of.


My days sailing with Piti did pay off where I managed to know the boat limits very well. Every night we would take safe approach by adding half a reef.

The second night we had 40 knots of wind and very high seas but all was OK.


See the height of the wave!!
New hair style!!



who is @ the helm?
Full moon was a blessing!



After the first 2 days morale improved , everyone started to have something to do,night watches got organised with Stuart/Colin to start with and 4 hrs later I will do 2 hrs with Bev and afterwards 2 hrs with Miriam.


On the 4th day we had a break on the conditions , wind dropped to 15/18 knots during the day and we flew the parasailor for 4 hrs during the afternoon. Great feeling to helm a 6 mts wave with the parasailor on at 10 knts + speed!!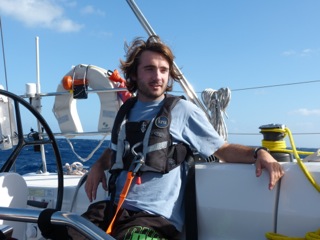 Colin in a sunny day
Stuart playing with his auto/camera
nice sky!



Bev and Miriam getting relaxed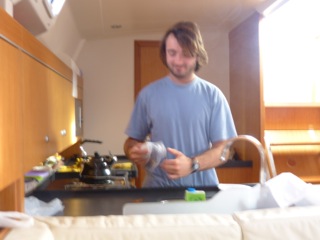 Colin washing up


On the 6 th of December we reached half way and we celebrated in great style, very relaxed without knowing what was about to come…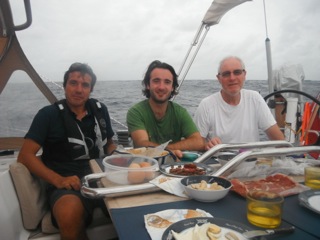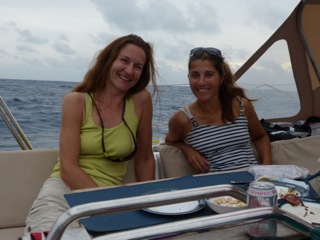 tired skip aft 7 days

flying the parasailor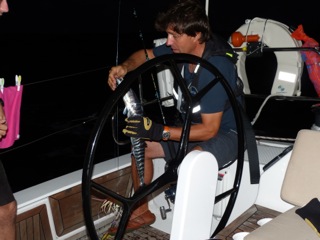 First barracuda of the trip.


Decided to keep the parasailor on the whole night. It was a curious night as the wind pick up to 20 knots several times and dropped to 12 sometimes. But unfortunately at down it picked up again to 22/24 knots and due to overload + steering cable(wheel) material fault we lost our wheel steering.

The parasailor ended up wrapped around of the mast. Chaos for 30 minutes but with Stuart patient and skills he managed to undo it with little damage.

So, we were middle of the Atlantic,still another 1450 miles to go, no Parasailor and no wheel steering, just the autopilot!!!

We did try the emergency tiller but with high wind and seas no chance you can make it work.


Unfortunately it was time to change our approach to the crossing since that morning. We had to go a bit slower to safely reach the other end.

Autopilot is fine for sailing as long as you don't have to change course dramatically. But if there is a problem,and you are surfing waves at 15 knots that is not easy to do.

Also you had the risk of the of the autopilot suddenly stop working in the middle of a surf and that could end up broaching and later on beam facing waves.

Before this problem, we were averaging 7.5 knots and we ended up @ 6.0/6.5……. that meant another 2 days of sailing.


I had only one aim in my mind and that was to get to the other end safely. Duties they call it!



Sunset and parasailor on before the problem…....
---