Ceuta-Africa

bwone
claudiowider
Thu 4 Oct 2012 10:29

Africa






Left Gibraltar and decided to go to Ceuta,Spanish Enclave in Africa.

Only 15 nm and you are in a different continent.

I have not bought up the dolphin factor but around here they are so much around you that you take their beauty for granted.

Each journey we are visited by them, either on their own(very rare) or in good numbers(even several dozens of them).

Visits last normally few minutes and they decide to go. I think at this stage Miriam and I got more excited with them than the kids!!!


Spotting Africa,a milestone. See sophistication at its best!!!!!!!!!!!!!!!!!!



Sailing towards Ceuta




My friend the cigar and sunset towards Gibraltar




Sunset in Ceuta, Blue Water One (far right),Fellina(centre) and Cristiana( old boat from late 19th century)



Children paying with history…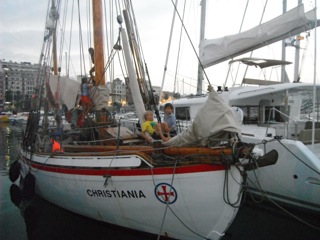 BBQ at night captured by Alexander


---