Las Palmas Two

bwone
claudiowider
Tue 27 Nov 2012 17:02
Las Palmas, second part




Parade


On Sunday 17th the Arc held their Nation Parade, a great opportunity for flag display and entertain locals.




Karen with Panamas flag(???????)
a few picture with Argentinas flag otherwise won't be granted a passport next renewal!!!!!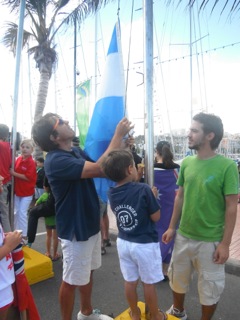 Every afternoon, 700 pm there was a two hour free drink gathering, organised by different sponsors.

At the very beginning we went to a few but as most of the crews were arriving, it got too crowded.


of of the nights..

There were three parties: the reception on Friday 16th(have no pictures), fantastic one with a magician for the children and gwn ups as well!!) ,good food and plenty of drinks. This ws organised by the City of Las Palmas.

The second one was the Arc Mask Ball, see below


Colin and Javier
Our Aussie Friends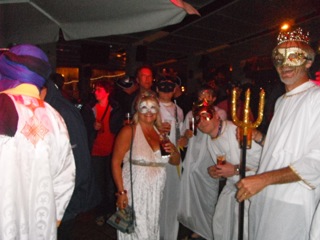 Axel(karen friend)


And finally the party was over for some….



The last party was the farewell party, held by the Real Club Nautico de Ls Palmas, where we swim almost every day(some people(we…) used it bath/shower2nd home.

By now, two days before the set off,every one was on board and even Miriam's sister(Estela).




At the Farewell party
guess who is always around ???
Estela


Other pictures from Las Palmas



Having lunch the boat
Miriam made laugh by squeezing something…
waiting for departure



as you can see Las Palmas night can be coldish


Tuesday 27th, departure date
some sad faces




Ready to go, there is one extra crew that will not depart though……
Busy crew one hour to go
crowd ready to say bye
Estela and Alexander as we leave LP


and finally we are off, very windy but nothing to compare with what is about to come



---