Atlantic Crossing Part Two-UK-St Lucia-6000 Nm Journey

bwone
claudiowider
Mon 17 Dec 2012 15:22
Atlantic Crossing/Second part
After the early dawn event, you can imagine how low everyone was.
We were sailing with main and jib but not much wind .
Boost morale was needed so made a bbq and some fishing(got a barracuda and a dorado which Miriam delicate prepared the day after in the form of sashimi.
The day after we were all back to business.
Barracuda
Dorado
Miriam preparing dorado sashimi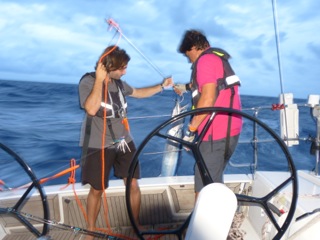 Big 12 kg barracuda
Following days were not big deal with average wind around 15/20 knts. Conditions remain similar till the 11th , a very sunny,quite day. However you could see two different fronts, north and south surrounding us.
Squalls have been coming regularly to us so even in relatively calm situations (15 knots wind) ,you could expect a 25 knots 30mins scenario.
That night, we had a reef and half in our main, no jib.
It was a calm night till before midnight, then the blow came.
Winds in excess of 35/40 knots ripped of the clew of the main which ended up wrapped around the mast. Since the wind was so strong there was no option than to wait and sail with this kite parachute for a while,hoping for easier conditions.
The whole night was stormy/wavy and winds ranging fm 30 to 40 knots.
Must say that it was the lowest point of the crossing as the whole crew was concerned and conditions were not the best.
By midday of the following day, wind started to ease and by the afternoon we manage to improvise a new clew thanks to Stuart skills.
By midday you can see the main around the mast/spreaders
Improvised clew
Next 3/4 days ,before reaching destination, winds ease a lot and were never any stronger than 15 knots.
Sailing was good but slow and we ended up using the engine for 50hrs.
Time to relax and just wait for either better winds or getting to destination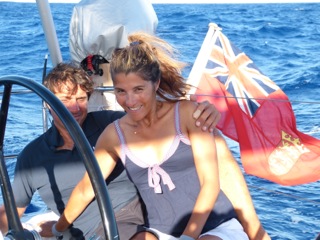 On dec 14th it was Colins 20th birthday
Port supplied by Stuart
On the 17th , knowing that our ETA was sometime by the afternoon , we relaxed and enjoy a good meal(and champagne!!!thanks to Bev)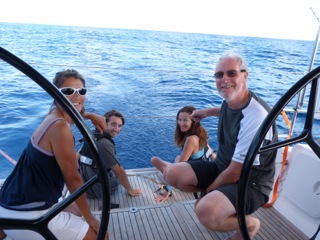 Some pictures ….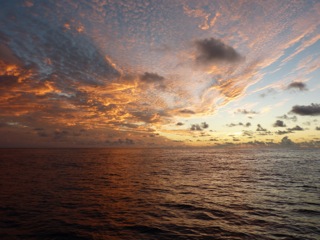 Luckily the last 3/4 hrs the wind picked up and we were able to finish without motor , 12 knots, close haul.
just before arriving
Destination, St Lucia
2900 nm,20 days,half of the journey without being able to steer manually, two sails broken but behind that a great human experience, good fun and challenging conditions.
If I could I will do it again , no doubts.
At arrival there where a few more parties and time to relax, Colin found a new boat to continue sailing, Stuart went back to attend his Xmas dinner and Bev spent 10 days with us.
Pictures fm St Lucia
Stuart + local beer
prize giving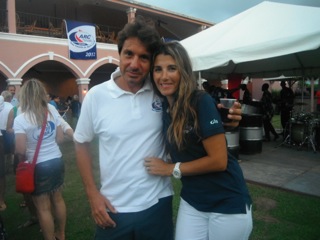 Blue Water One Crew, lucky Skipper,do you know him?????
---