Lanzarote to Las Palmas

bwone
claudiowider
Thu 15 Nov 2012 16:57


Lanzarote was a great stop.

The marina, Puerto Calero, was a nice surprise .You can compare it to any top one in the Med.

Perfectly clean and organised ,full to branded shops. Good restaurants, whether international or local cuisine.

Piti had to leave same afternoon so we had lunch and then he was gone. Before he departed remade one hour of boat inspection and planned what his mates will do in Las Palmas.


Nice inch after 5 days of mostly bad weather .

The next few days were spent relaxing,shopping(no surprise!) and a nice tour to the island Volcanos. This was an interesting tour where we could see how the island got devastated many centuries go, amazing arid(lava)landscape, and understand why there is almost no vegetation around(lava and ashes covered 90% of the surface)


landscape from the volcanos
hot lava
bbq cooked with volcanos heat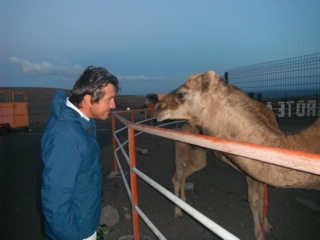 It was Alexander's birthday as well!!!!!!!!









The morning after Alexander's birthday,we set oof,destination Las Palmas.

For those who don't remember(the majority) that day,Nov14th,ismy birthday, celebrated at sea and fishing!



tuna after we left Puerto Calero
Here we go again, another 15 hrs at sea!!!!!Cheer up Miriam!!!



Left Lanzarotte at 1100hs( ab it late)and after dull 15 hrs we arrived in Las Palmas for our last stop before the Atlantic Crossing.
---