Lanzarote Crossing

bwone
claudiowider
Fri 9 Nov 2012 09:36
We left Sotogrande only 2 hrs after having arrived , by 1030 hs.

Weather was sunny, not much wind. We knew he had a 12 hrs window before wind was going to change direction to east blowing and complicate Gibraltar Strait crossing.

Conditions were perfect across the Strait and wind did not show up till we pass Tanger. Tipical Atlantic sell started to build up and os the wind.

By the first night we were in 20 knots and 3 mtrs seas, as expected but luckily the wind was coming almost behind us which helps a lot!

Piti and I made all the shits, 4 hrs each as Miriam was till not ready . She was on pills for the pain so no one willing to trust their lives to painkillers!


Storm approaching…


Piti at helm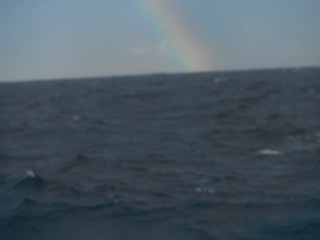 sun coming out in the middle of bad weather


@ the wheel and bad weather

Wether was windy, rainy few times a day and cloudy not much sun. Only the last day we ahd decent weather conditions and we could relax .
Before that we flew the parasailor for 215 hrs till the halyard snapped at 0500 hs so had to rescue spinnaker fm the Ocean.
Plenty of dolphins visited us, some of them staying for hours.

Some of the highlights of the trip was Karen and Alexander behaviour. They new that weather was not great but they spent most of the time doing there own thing,watching videos, playing games but at no moment they gave us a hard time/ Well done both of them!!!!

On the sailing side very interesting to sail under not perfect conditions, wind arnd 18/20 knots most of the time, seas 3 to 4 mts ,boat tested(she sails very well) and she is quick( we recorded 13.9 knots surfing a wave), usage of parasailor at night with 20 knots.

Miriam got better as we approached Lanzarote and though she was not needed in the cockpit she was very helpful with the children/cooking and making company whenever it was needed.

Piti was a great fridn during the trip. I learnt a lot form him, specially how to calmly approach the different sea conditions + his regatta experience is fantastic to learn about perfect sail trimming and what to do when you lose your spinnaker in the water with 20 knots at 0500 hs and 4 mts seas. Well down and thanks Piti!!


dolphins and red parasailor



Finally some nice weather and relax on board



supper on board


Arriving to Lanzarotte after 4(5 nights) days at sea at 0700 hs
Lanzarotte in the back


picture before arriving to Puerto Calero, Lanzarote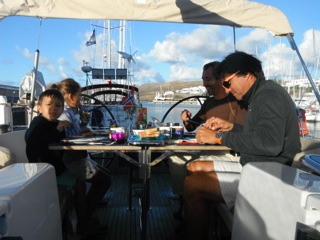 Well deserved english breakfast after 4 days.Beautiful weather!
---