Las Palmas One

bwone
claudiowider
Tue 20 Nov 2012 17:01
Las Palmas


The marina is a huge one,more than 1500 boats , belongs to the city.

It is kind of messy place ,very busy,probably overwhelmed by the visitors.However, marina staff makes their very best to accommodate all the ARC boats in the best way they can.

Since we arrived at 0100hs on Nov 15th, we had to spend the night at the fuel pontoon.By 1200hrs we were given our berth.

The whole marina had the ARC atmosphere and you could see people very busy fixing or preparing their boats.




Blue water One in her berth in Las Palmas



note the the Arc Flags
busy pontoon at sunset


Stop at Las Palmas was one of the highs of the trip. It is difficult for me to start telling you how many things we id, how many people did we meet or how many parties did we attend!!!


We arrived on the 15th and the expected departure was Nov 25th. Ten days to prepare the boat, provisioning, attend seminars and party every night.


Our crew at that point was already set.

Colin Manson, 20 yrs old from Scotland, Stuart Anderson(Scot as well but living in Chichester(near by), Bev Whyte, Miriam and Myself.



Stuart, Colin, Bev, CW and Miriam.



Colin arrived on the 18th, Stuart on the 20th and Bev on the 22nd.


Life in Las Palmas was busy. During the day there were one or two seminars to assist(normally one hour each), then provisioning mostly done by Miriam and later on joined by Beverley, talk to people who had already done the Arc , in my case work and in the spare time try to put together boat preparations.

The first thing was to pass the safety checking which we did except for an additional mast light. Six months preparation paid off!

Once that was done had to do few things

-Add some reinforcement to the main sail to cope with chafing
- Cover the spreaders with anti chafing
- Get and install a new halyard (the old one will be our back up)so in case we have another snap we would have to climb the mast in the middle of the Atlantic
-Several minor rigging changes
- new blocks fixings along side deck


Do you know how much did it take to get this halyard block(selden)in the top of the mast?buy it in UK, rush it into Bevs luggage,get the people to install it,etc.All to prevent chafing!



Working at night to mark the main sail for later chafing protectors.
last minute preps, see the protection on the spreaders

We net grab people:

Lolo the rigger, Manrique the sail maker, all Piti's friends and top race sailors as well.

I learnt a lot from them as I spent time with them while their modifications. good fun as well.




Provisioning


Local supermarkets, specially El Corte Ingles(sort of Mark & Spencers)quality is very high. Prices are a bit cheaper than in the UK but better produce in general.

The Arc event attracts so many people that you have a whole industry behind curtains. From the fish mongers till the fruit suppliers, they all do know what to do to get your food to last longer.
Meat in general is supplied a day earlier in vacuum sealed bags, long lasting bread, Ham(Jamon Crudo),cheese,chorizo all properly packed. Makes thinks easier.

Veggies and fruit need also to be wash ,dry and store.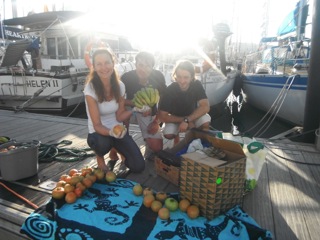 Washing and drying vegs and fruit on the pontoon



During the crossing we had fresh meat till day 18th! Potatoes, Onions and eggs will still be eaten 10 days after arriving in St Lucia!!!!!


Storing


Once you buy everything( or more- see how polite I am on this matter!!!) than you need to store it properly and that also takes time and planning. Colin Manson was or stockist organiser, well doneColin!


Bev and Colin storing up, later on Estela will help organising boat storage and tide up any space that can squeeze in more stuff.


Miriam, Colin and Bev doing their job.


Since we have so many pictures I decided to split in two parts this Las Palmas blog,part B) begin the parties and socialising.
---