Harbour at Puerto de Vueltas VGR 28 04.89N 17 19.95W

Barada
Paul Downie
Wed 21 Nov 2007 12:36
On Saturday 17th we up-anchored and are now moored off the harbour wall
sheltered from south-westerlies. A developing Low to the NW with a cold
front produced a swell from around midnight, increasing steadily, so no
sleep for Rosie and myself tho the wind didn´t blow til around midday on
Saturday.
We have been lucky to enjoy 3 wks at anchor in such a lovely setting.
Instead of the 10min motor to the harbour in Tinker we now have a 5min row
ashore.
The damaged strike has been repaired by a Dutch guy, Rauno, so we will now
wait for the wind to come North again and the swell to decrease before
sailing by El Hierro on our way south to Cape Verde.

Since we turned the clock back, as in England (we are still the same time
as UK), the weather has been more Autumnal more cloudy but still warm and
sunny most of the time.

Gomera is the highlight of the Canaries for us, shaped like a rock bun
with deep ravines, fertile valleys with steeply terraced slopes and above
them dense, dark forest with Laurisilver woods lead up to the central peak
of Montana Garajonay 1,487m. Exploring the valleys and mountains has been
enchanting, a botanical and geological experience - tho the rugged terrain
is arduous at times......we have trekked up the Valle Gran Rey (Gt Valley
of the King), scrambled and climbed up a rocky riverbed to a waterfall,
walked thru a Laurisilver Wood on Garajonay and trekked the ridge of La
Merica 857m above the VGR with the cute Goats their clinking bells echoing
around us. The descent from Merica was a zig-zag camino (stoney path),
very precipitous with fantastic views of the harbour and Atlantic, took
nearly 2 hrs to get down the mountain, which finished Rosie off for a few
days! (Rosie thinks she did very well :+)

Vueltas and La Playa is an unassuming but comfortable Port with various
sand and rock beaches, the whole area being low-key, laidback and still
retains an echo of the ´hippie´culture of the 70s when VGR was a mecca for
the alternative society - the setting of the Sun is celebrated every
evening on La Playa beach with drums, flutes and fire-eating displays, and
every New Moon there is a party at the Castillo la Mar on the north coast
which we are going to on Friday.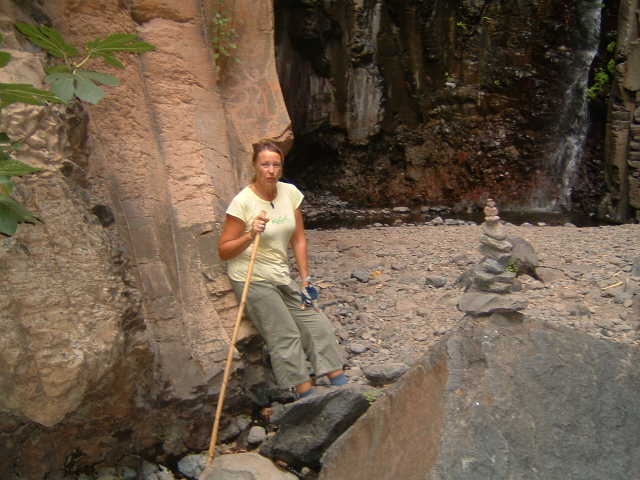 ---