ICW May 15, 2008 Position 35:40.304N 76:05.495W

SeaTrek
Bill and Judy Stellin
Fri 16 May 2008 01:54
As you can see from the Google Map we are again at anchor in the middle of the ICW. We didn't run out of time this time, we just decided this was as far as we wanted to go today so we just pulled off the road for a bit of rest. The body of water we are in is as big as Lake Macatawa and about 3 feet deep. There is a little tongue just off the dredged channel that we found that is 8 feet deep so we dropped the hook for dinner and the night. Our trip here was a mixture of open water in the Pamlico Sound, to a ditch that was no more than 100 feet wide.
This cut is called the Alligator River channel. It is very wild and for all the life looks like the Upper Pen. of Mich. Low land that could be swamp in places and pine trees. It is very pretty but boring. It is straight as a string for 30 or so miles with the depth never more than 18 feet, and only in the very center. The banks are strewn with snags, stumps, dead heads, and trees that have fallen at the banks.
There was a big sign on a post about 5 miles into the channel that said DANGER.
That's all, just Danger without any explanation of what. We hit something during our transit, I think a floating log slightly under water. I don't think it did any damage except to our bottom paint.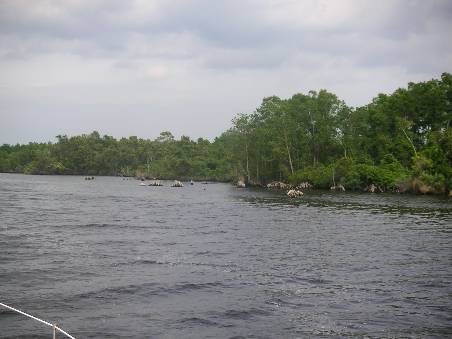 This is a very exhausting water way to travel. One must drive constantly. We can never take our eyes off the chart plotter and the water ahead. We use the chart plotter to keep ourselves in the middle of a very narrow dredged channel. Most of the time we also have to stand to see and make sure we won't hit something floating. Today we traveled 68 miles which was a very good day averaging 7 knots.
In an earlier part of the ICE that is built up (today we saw no sign of civilization) I noted a particular style of architecture that is shown below. We saw hundreds that were essentially identical to this one. Just a box with porches.
I don't know about you, but to me I think some third grader must have won the competition on home design.
In an earlier journal entry I mentioned Southport, our landfall and first port after Tortola.
Now here, the homes were beautiful. This is Bald Head Island, where no cars are allowed. Only golf carts or bicycles. The average cost of all the homes sold last year was $1.3 million dollars.
The marina homes behind Jaywalker, were just a tiny portion those on the island. Most are on the ocean, or just back from it.
This marina has the smallest channel we've seen. It is the one I tried to describe entering in the dark. The ferry coming in is crabbing into the current so he can make it without being swept past. It's a wonder we ever found this in the pitch black night or pile up on the beach in the process.
Tomorrow we will try to make another 55-65 miles and then just one more day of this and we will be in Norfolk at the bottom of the Chesapeake.
I sure am glad we did most of the Atlantic coast in the ocean. This is too much work.
---