Benalmadena

SeaTrek
Bill and Judy Stellin
Fri 21 Sep 2007 14:37
Benalmadena Sept 21, 2007 Position 36:35,775N 004:30,780N
We left Cartagena with a brisk east wind that had us flying to Garrucha, a grubby commercial and fishing port not worth spending more than one day in.
These parts of Spain are dotted with man-made commercial ports which are best left to commerce. It was also the last port of call in the Costa Blanca.
Our last Spanish coast, Costa del Sol also has its share of dismal ports, but at least it does have some very nice vacation points with good marinas. None
of the coast has many anchorages, at least ones that are safe for more than a few hours in settled weather only.
We are now covering some ports visited eight summers ago, and surprisingly we are still in their computers when we check in. We have found, which I suspected,
their computers are just glorified paper weights. After the attendant found our name in Almerimar, she had to go the archive and get out the physical paperwork and work from that.
Next came Puerto de Motril which was almost the worst port we've been in. I think Spain produces more dust than any country we've been in. At each end of this one mile long harbor, big ships were either loading or unloading "dust" Clouds of it from cement, aggregate, sugar, anything that can generate grit that finds it's way into everything. Plus the wind blew strongly first from one end of the harbor then switched out of the other end. Add to this the noise of these ships engines and cranes and its a wonder anyone stays there for more than a few hours.
Celeta de Velez gave us small relief from the dust, but was substituted for dead fish from the very large fishing fleet which is based in this port. At one time I counted over 40 large dead and rotting fish floating behind the boat and the quay. The smell in this heat was terrible. Plus, the price of 38 euros was exorbitant.
Now we are in Benalmadena which is a proper yacht marina and quite an upscale one at that.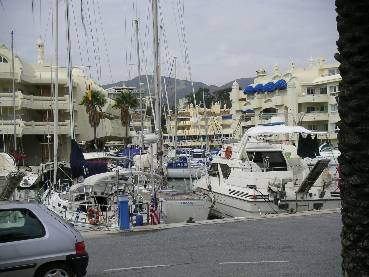 You can barely see our flag in the foreground
It is very plush with expensive housing interspersed with the channels for boat slips. Suprisingly, the berths are dirt cheap at only 20 euros per night for our boat. From here to Estepona and Gibraltar the coast is high market and the original tourist haven for Spain forty years ago. Fortunately, it has all been kept up and improved upon. So far no dust, and no dead fish.
Two boats over from us are a delighful English couple Keith and Beth, our age, who we had dinner with last night. They took us to one of the typical British haunts for a proper English meal. I must admit it as delecious and very cheap. I think that is why they took us there. I picked up the check because Keith drove there and dinner for four including drinks only came to 28 euros. The place was packed with Brits while other places nearby that cater to Spanish were empty. The Brits know where the great values are. After dinner we drove to a special bar for after dinner drinks and even here Irish coffee was only 2 euros.
Next stop may be Gibraltar or the Spanish port of Ceuta on the North African coast in Morocco across from Gibraltar. On the other hand, I read in todays Harold Tribune, the Muslims want all of this property back and will fight to get it. Gibraltar might be the better choice.

---