Tanna Excursion

ANGEL
David & Valerie Allen
Wed 4 Aug 2010 23:28



17:44.23 S 168:18.52 E
Having explored a bit of the island of Efate, namely the capital, Port Vila, we were anxious to see some other islands in this amazing country. Accordingly, we decided to book an excursion to Tanna Island. Tanna is only a 35 minute flight south,but almost another world away from Port Vila. Its most significant attraction is Yasur, the world's most accessible (active) volcano.
Our first adventure of the day took place shortly after 5:30 a.m. while we were sitting outside the marina restaurant waiting for our transfer to the airport. Along came a taxi driver consulting his notes. He mumbled something we could not distinguish and when we asked if the name was ALLEN, he promptly agreed and had us hop aboard. We should have heard alarm bells when he had difficulties locating the domestic air terminal. When we alighted and said farewell, he demanded we pay him $20.00. We had been told the transfers were included in the price. However, we paid and went and sat down until the checkin counter opened. Then a woman from a lovely van marked AIRPORT TRANSFERS came up to us and said she and the driver were the people who were SUPPOSED to pick us up! We now knew what to look out for when we returned the next afternoon.
The wait at the airport was definitely interesting. It was National Children's Day and half the population seemed to be travelling that morning to visit relatives. Others stood in a long queue to ship off gifts to neighbouring islands. Everyone was in a happy sociable mood. The flight was a bit delayed, but was brief and very scenic. The carved bird outside the Tanna Airport reminded me a great deal of the Indonesian garuda.
Tanna Airport
We did not have to collect any baggage and proceeded to Step Two- finding one's transportation. After asking about for the Port Resolution truck, we and six others clambered aboard a pickup truck, four inside and a French family of four perched on wooden planks in the back outside. Let it be known at this point that Tanna has perhaps the WORST roads in the WORLD! That poor family bounced about for two full hours over dusty rutted unpaved roads. Inside the cushioned was almost non-existent and definitely not a luxury limo. At one point, before we crossed the mountain to get to the other side of the island, we stopped for petrol. The station looked like a small snack hut and the hose was passed out the service window.
Pumping gas in Tanna
It was a beautiful sunny day and the view from the mountain overlooking Yasur was stunning. We were all very excited about coming back to walk up to the lip of the caldera to see the lava fireworks later at nightfall.
Looking down at Yasur while dust and ash from the vent blow past
At last we reached Port Resolution Yacht Club and our overnight accommodations. This was actually the highlight of our visit. The club is part of an active traditional village. Our hut was made of wood and woven pandanus leaf mats, just like those of the villagers. Unlike the local people, however, our hut had a sink with piped in water.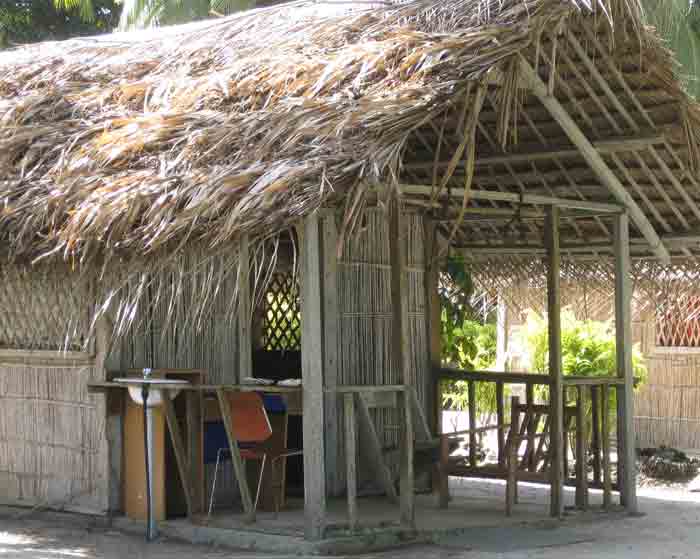 Home sweet hut
We also had a "necessary house" across the field with showers and flush toilets.
The Necessary House
Our hosts were Werry and his family. His sister, Serrah was our caterer for the visit. It took her a few minutes to come up with lunch, as it was not automatically included. It was delicious- rice, an omelet and freshly picked vegetables. The most unusual was the one she called BEANS. This plant looks like a cucumber and is about the same size, but completely different in taste and texture. We made a point of booking a meal for after the volcano trip as there were no other eating places available anywhere.
Then we explored the immaculately maintained village and talked with some of the villagers. Everyone in this village still lives in a wood and pandanus hut, athough in other areas we saw an increasing use of concrete block. Many different designs of weaving make the homes more individualistic. Some had carvings outside. This statue was carved from a tree fern.
Village house
Werry and his wife and family were relaxing in the shade and allowed us to take their pictures.
Port Resolution Family
Noel and his Mom
Children make up 43% of the population of Vanuatu and are adored by their families. The official name for children here is pikinninis, a very non-PC term anywhere else in the world! It is hard to believe that not so long ago unwanted children were left to the elements and wild animals.
Another view of some of the village huts and pathways
Of course the main purpose of our trip was to climb up to the caldera on YASUR. However, by mid-afternoon the sunny blue skies had given way to rain clouds and extremely high winds. We were a little leery of this situation. Unfortunately, our worst fears were proven true. After another tortuous ride with all of us in the back of the village truck, we arrived in the pouring rain and paid our fee to go up to the lip of the volcano. The high winds and rain had conspired to push all the steam down into the vent and we could see nothing but ash and steam. However, we COULD feel the ground trembling and hear the sound of the lava. It sounded like a train bearing down on us. This is our souvenir shot of the trip.
As you can see, we are still smiling and enjoying the experience.
We managed to get a copy of the photos which ASPEN took on their trip a week later so that you can have an idea of what it should have looked like.
The post office outlet on top of the volcano also was not operating that night. Supposedly one can purchase post cards with singed edges and post them atop Yasur.
We "dined" with the French family from New Caledonia and the platters of food rapidly disappeared. We had rice and an omelet plus vegetables again. We did pass on the little 2 inch fish. There wasn't much on them by the time the head and skin and bones were removed. However, the meals proved that the Tannans eat what they can find at any given time. The high winds would have precluded taken small dugout canoes into the wild seas to catch larger fish.
We were supposed to visit a kustom ceremony at a neighbouring village, but none were having a celebration that day. No worries. We were really tired anyway.
The next morning we had been slated to visit local hot springs and bathe in them en route to the airport for our 4:00 p.m. flight. Unfortunately, as the village only has one truck, we had to leave for our flight at 10:00 a.m. in order that the truck could be used for that night's volcano viewing! We finished our breakfast of two half pieces of buttered toast and a couple of breakfast crackers and a banana and set out across the island. Many local villagers journeyed with us to various other villages along the way.
On Tanna on a Saturday and Sunday NOTHING is open, including the airport shop. We arrived at the airport by noon and read for a bit. Then we chatted with an interesting young tech student from Nepal. He had stayed several days at the Treehouse, a tiny hotel built in a tree with its windows overlooking Yasur. He was able to go up the volcano several times as he could trek to it without transportation. In hindsight, it would have been cheaper to fly on our own and book into this "hotel" instead of taking an overnight tour, which limits your options. However, then we would not have had the village experience, which I believe was much more important.
When the shop at the airport finally did open, Dave managed to buy biscuits (cookies) and drinks. There were no sandwiches, etc. But you could purchase large tins of cooking oil and even a bicycle at the shop! (Definitely different from the North American experience!)
Our boarding was a little delayed by the arrival from Port Vila of the French school's victorious relay team. For Children's Day, there had been an Around the Island Relay Race in Efate and the Tanna team won! They had an enormous gold cup as their prize and were greeted by dignitaries and festooned with leis. Airport waiting is very much more festive in Vanuatu than at home!
The victors arrive!
---