Chichime to Portobello

ANGEL
David & Valerie Allen
Sun 7 Feb 2010 19:40
09:33.46 N 79:39.85W
Monday, February 1, 2010.
We had a most enjoyable sail from Chichime to Portobello today. It was a little disconcerting to have other sailboats fly past us. However, two were MUCH larger and should have been able to do so. A third, about our size must have been on a more favourable tack. We took advantage of the lovely conditions to practice sailing downwind using just the headsail. We now feel much more comfortable with it and are getting adept at gybing.
The anchorage here is HUGE! This was the port chosen by Columbus and the later Spanish conquistadores as the transfer point of the valuable trade items from the Orient and South America. Forts were erected to protect the harbour. However, the land access was not under heavy protection and Henry Morgan, the privateer managed to take the town and demanded a huge sum as ransom. Much was rebuilt over the centuries, but earthquakes and other natural forces have contributed to its decline. It is now a sleepy little town in a very picturesque setting. The remains of fortifications are on both sides of the anchorage area and there is a larger fort at the end of the bay. We are anchored beside the higher fortification and took a hike up to explore it. We met a professional photographer taking shots for a documentary for Canadian television.
Dave at the entrance to the fort in town. He LOVES forts and castles so we explore them at every opportunity.
View from the top of the higher fortification beside where we are anchored. ANGEL is off screen to the left.
Here is Dave waiting patiently for me while I am talking with the photographer. Lucky is the family who owns the property adjacent to the ruins of the fort. What a lovely location for a vacation home! Water taxis ply their trade transporting workers and family workers back and forth to town. There are no roads on this side of the bay. There are, however, many many birds and butterflies.
In the town there is a fairly brisk tourist trade with a number of buses in the town square in front of the Church of the Black Christ.
Apparently, pilgrims journey to this church all the way from Puerto Rico on their knees to pay homage to the Black Christ.
The statue, unfortunately is behind glass and does not photograph well. It is, however, very impressive, as are all the statues in the church. They look so graceful in the clothing that has been put on them.
We also dinghied around the bay a bit to look at the lovely holiday homes.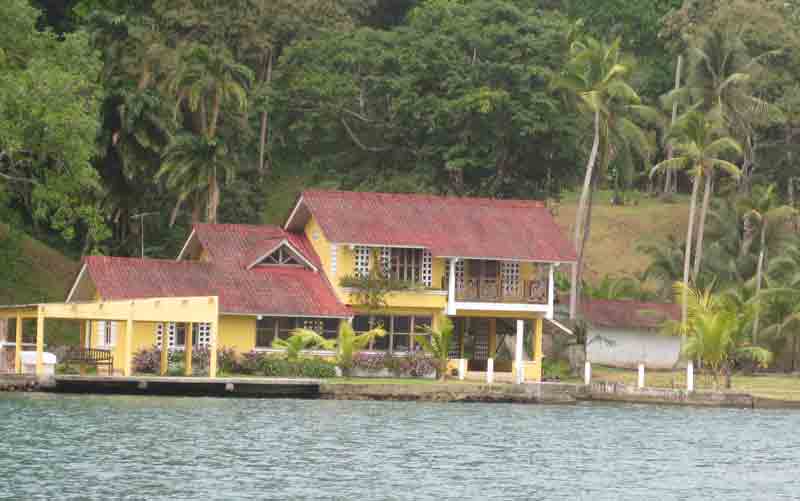 We found an internet cafe to catch up on our incoming email- after more than a month away! 45 minutes only cost $1.25!
We will be returning to Portobello on Saturday as that will be the first time we meet the entire fleet for our briefing on the Canal transit and lunch.
---