Canas Village, Isla Canas, Las Perlas, Panama

ANGEL
David & Valerie Allen
Fri 12 Mar 2010 23:35
08:23.02 N 78:50.09 W
Friday, February 26, 2010.
Today we have come to the NORTH end of Isla Canas. We avoided it the other day because there is a shoal in the middle of a narrow channel. However, we had no trouble with it, especially since one of the local fishing boats more or less guided us in. It is a beautiful spot, but there seems to be a constant stream of vegetative scum circling around the anchorage, making it less than appealing for swimming. We decided instead to dinghy over to the village. It was quite a welcome surprise.
Canas Village is not very big and is rather "sleepy" as AQUALUNA put it. However, it is very clean, the houses are well built (of concrete) and well- maintained. It seems that today was village washing day as every house had a line of spotless clothes outside. The government must be providing many amentites to the village. There were several washing machines in use and the fishing boats had much bigger engines than we have on CHERUB! There are wrought iron benches along the waterfront. Well-dressed children played joyfully everywhere. We were invited to buy limones (limes) by several people as we passed. At $1.00 a sack, we purchased two lots from different people. One man grabbed the pole supporting his mother's clothesline to use it to knock some limes down out of the tree in the backyard! They don't come any fresher than that!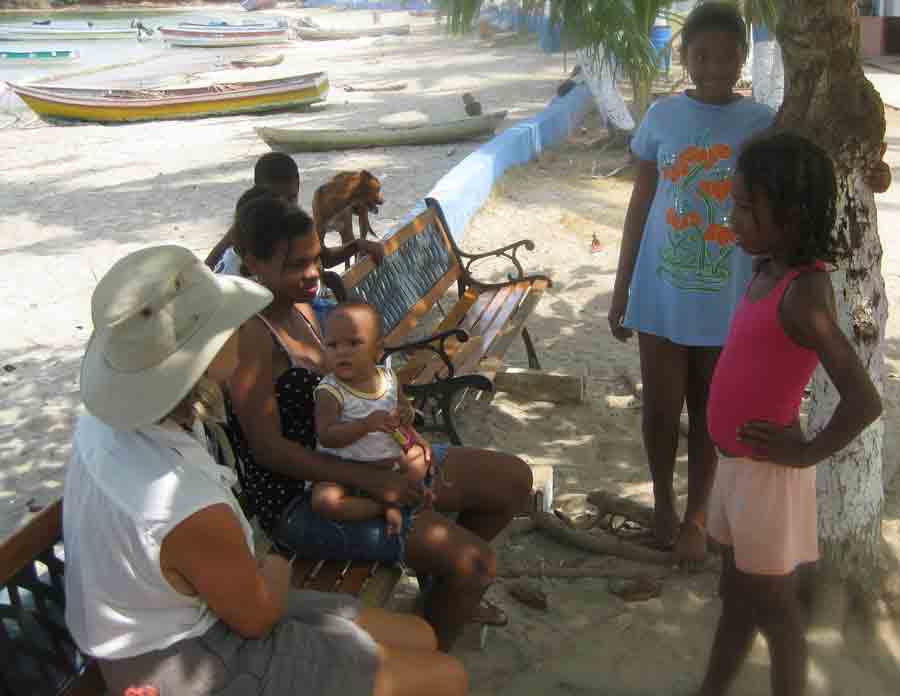 Chatting with children in Canas Village.
Freshly picked limones!
---