Mackay, Queensland, Australia

ANGEL
David & Valerie Allen
Tue 24 Aug 2010 05:37
21:06.65 S 149:13.52 E
The customs/immigration/quarantine inspection took a fairly long time. We were the last of the four boats to be inspected and when we were all set to move to our permanent slip, we discovered another racing boat behind us, making it impossible to get by (without scratching the mega-yacht, PERSEUS, beside us. We decided it was best to stay there the night. When we radioed Rally Control of our intentions, Tony insisted we could tie up behind BLUE MAGIC by flashlight. Luckily there were enough people on hand to help us tie up! I don't know why we were given a shared slip either- perhaps they wanted BLUE MAGIC to feel at home if they woke up in the night and found they were still towing a boat????
ANGEL docked behind BLUE MAGIC. I guess no one read the regulations about boats NOT extending beyond the dock.
During the night TEAM ASPEN arrived and took up residence on the quarantine dock. Their convoy consisted of 6 boats. At some point after we performed our Man Overboard routine ASPEN lost all power and ENCHANTRESS rafted up with them. Then they transferred two batteries from ENCHANTRESS to try and start the engine. Lo and behold the battery transfusion worked! No sooner were they connected than ASPEN's charger started functioning. They also had a happy ending to their travels.
The only other major problem this passage occurred earlier when MISS TIPPY encountered bad weather and tore both the genoa AND the main sail. They managed under stay sail alone until the wind died. Then they just barely had enough fuel to reach Mackay.
It's a good thing we have two months here in Australia because everyone is ready for a break! Who says sailing is dull!!!???
On Thursday, the 18th, ANGEL, FAI TIRA and NATIBOU were hauled out as scheduled. We had 4 skippers on board as we backed into the crane's slipway- and everything went very smoothly. We went aboard NATIBOU as well and Hans performed admirably in moving his catamaran into a space with about half a metre to spare on each side. Unfortunately, as we were boarding the launch before the lift, I slipped on the bottom step jamming my right leg on the step above me. My mobility has been seriously compromised ever since.
However, I won't complain. Dave had arranged a special treat. Living aboard ANGEL on the hard is almost impossible, with no electricity (220 volts here) and no refrigeration. We are currently residing in a VERY nice hotel apartment. Pampering is very welcome! We are in the penthouse and can see both the docks where we were berthed and the shipyards where ANGEL is right in front of us.
This life is easy to take.
Today we went on an excursion to Mt. Eungella in the Pioneer Valley, to the north of Mackay. Our guide, Col was an encyclopedia of knowledge of the Makay region and had an anecdoted for everything.
Our first stop was at his bush camp, the Finch Hatton Hilton, for billy tea and damper. The billy tea was boiled over a campfire. When it boiled, it was taken into an open space and swung in a huge circle by its handle to settle the tea leaves. The consensus was that it had a rather smoky flavour.
Billy tea being prepared at the Finch Hatton Hilton
Jonathan and Jennifer will no doubt remember damper from our excursions through Kakadou and Uluru. I will never forget my stunned _expression_ when asked to prepare the damper for dinner! Damper is a type of soda bread, normally cooked in a pot in the embers of the campfire. Apparently it is also a staple at homes in Australia. The damper we had this morning was delicious! We had a choice of honey, molasses, treacle, Vegemite and pancake syrup too spread on it. What a welcome feast. (And I now know what treacle is. My English cousins missed it when they were living with us in Canada. It is a more refined version of molasses.) Vegemite is in a class by itself (with Marmite) and is a taste one needs to acquire from birth.
A very popular breakfast feast- damper
Before our lunch, we went on a hike to the Araluen Falls. This was a bit strenuous for a game leg, but well worth the effort. It was lovely and cool walking through the rainforest- and good to get some exercise after our sedentary life sailing.
A lookout spot on the way to the Araluen Falls. Dave had injured his arm three times in the same place months ago and there was a spot which never quite healed. He had a "shave biopsy" yesterday. Hopefully everything is all right.
When we got to the falls, we admired the view, especially of the young people who were jumping in from the cliff sides- right next to the no jumping or diving signs.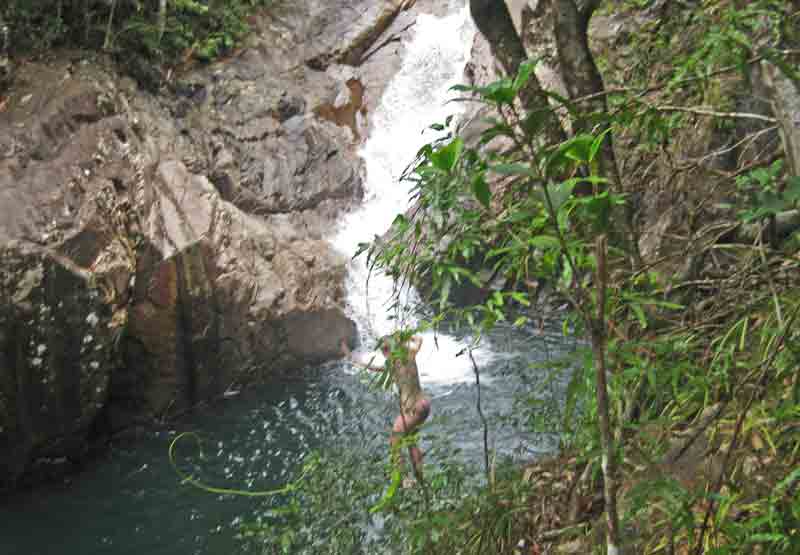 This is an attractive young lady not-jumping into the pool.
We had a wonderful barbecue at the Finch Hatton Hilton again. (The brochure specified a hotel, but, since Tony bargained the tour operators down, I reckon this was to defray the loss of income. It was also very much more authentic to have a steak and sausage fresh off the barbie.
From the slopes of Mt. Eungella we had a lovely, if somewhat hazy, view of the Pioneer Valley.
At one time there were about 30- 35 dairy families in this area, but now there are only two or three. Coal mining is much more profitable. Miners earn about A$10,000.00 a month. This is the main reason everything in Mackay is so very expensive. Moeny for these people is no object.
The highlight of our day was stopping at Broken River to look for platypus in the wild. From photos I had always imagined these unusual creatures to be the size of beavers. In fact the females weigh only 900 grams and the males about 1400 grams. They are TINY. They are one of only two kinds of montranes in the world- the echidna and the platypus. They burrow into the banks of the river and stay there during the day. In the morning and late afternoon they come out to feed. They dive to the bottom of the river and scoop up a beakful of silt, worms, crustaceans, etc. The beak filters out the dirt and the food is kept in cheek pouches. When the pltypus is underwater it expels air through its single orifice under its tail. The front legs are used for swimming, the back legs and tail for steering. A dominant male looks after its harem. When it is time to reproduce, the female expels her eggs and the male releases his sperm among them. Then the females swallows up the fertilized conglomeration and incubates the eggs inside her body. For ten days she does not eat. When the young are ready to be born she regurgitates them and they are ready to swim and look after themselves. Then the female eats her body weight in food to replenish her strength. (I think I prefer to remain human!)
Everyone managed to see at least a couple of platypus (platypuses, platypi????) Betting photos of these shy creatures was another story. They tend to look for food just outside of camera range and don't stay on the surface very long. Looking for them requires a lot of watching and waiting........
Col encouraging us in our search
.......still looking
Finally a male came up very close to us on the rocks and was quite the ham. He really wanted to be famous!!!!!
It was worth the wait!
After this busy day, we were all happy to doze in the dark a bit and enjoy the famous meat pies from the Pinnacle Pub!
---