Lizard Island

ANGEL
David & Valerie Allen
Tue 19 Oct 2010 01:00
14:39.56 S 145:27.02 E
Sunday, September 19, 2010
Lizard Island was our destination in October 2001 after we had passed our Coastal Skipper course in the Whitsundays. It was like coming home to reach this wonderful spot again. We also found we had caught up with the bulk of the rally boats (in fact, they passed us en route- a rather deflating , but exhilarating experience. These were bigger, faster boats, but we were back in their midst again.) Actually it was a beautiful sight when all these sailing vessels passed.
The day of our arrival was also a special day for LAROOBAA. It was Juliette's 4th birthday. We arranged to have sundowners and snacks on the beach. Simone, her mother, had baked a birthday cake and everyone managed to find some little gift for Juliette (and her brother, Hugo). It was a real birthday party!
Juliette's birthday bash
I hope she made a wish!
After the festivities, other yachties from the anchorage came ashore for their regular happy hour. One couple seemed familiar. Joy recognized us from our visit in 2001 and remembered we came aboard the charter boat LORELEI What a memory!!!!
The day after we arrived we ventured out with our dinghy with several other boats to weave our way among the shallow coral to the Marine Research Centre on the other side of the island. I decided to find my way through coral reefs to the Blue Lagoon reef where I planned to join the others who walked there along the beach. I never did find them, but enjoyed the swim and found many interesting fish and a huge grouper along the way. It was so good to get wet again!
The day after the party I spent the morning doing laundry in very high winds as I thought we were leaving the next day. (Locals call this "Blizzard Island" for a very good reason- it is very windy!) Then we went for an afternoon hike, we realized it was too late to attempt Cook's Lookout. We followed the Pandanus- Mangrove trail instead.
Our first stop along the trail was the site of Mrs. Watson's house. She had married a sea cucumber fisherman and moved to Lizard Island as a young bride. One day, while her husband and his colleagues were away, they found invaders approaching the island. Mrs. Watson, her children and their Chinese helper hid in a sea cucumber preserving vat and set out to sea. They reached another island where their dehydrated bodies were found. This is all that is left of the home.
Mary Watson's House
We followed the trail through a eucalypt forest where fruit bats noisily spend their days hanging from trees until they venture out to look for fruit at night. These bats do not use echolocation and can see very well. Their daytime conversations can be heard for miles!
We reached the airstrip for the exclusive resort and wandered around the resort's perimeter. There we spotted this gorgeous dove.....
The dove is much more beautiful than this photo shows
....and a goanna lizard, for whom the island was named
a well-camouglaged goanna lizard
We ended up on Chinaman's Point lookout from where we could see the Watson House and the anchorage.
view from Chinaman's Point Lookout with the Watson House in the foreground
The next day, we intended to go hiking up to Cook's Lookout very early. However, my leg was throbbing from yesterday's efforts and Dave joined SOL MARIA and BLUE MAGIC without me. They made amazing time.
When Captain Cook surveyed the east coast of Australia, he spent much longer than anticipated since he and his crew could not find their was out of The Great Barrier Reef. Near Yorkey's Knob, there is a cape called Tribulation with Mt. Sorrow behind it. This is the spot where the ENDEAVOUR had to be almost rebuilt after almost sinking on the reef. It was not until Cook scaled the hill on Lizard Island that he finally managed to see a channel out of the reef. This is now called Cook's Channel. At the top of the lookout there is a visitor's book to sign.
Arrival at Cook's Lookout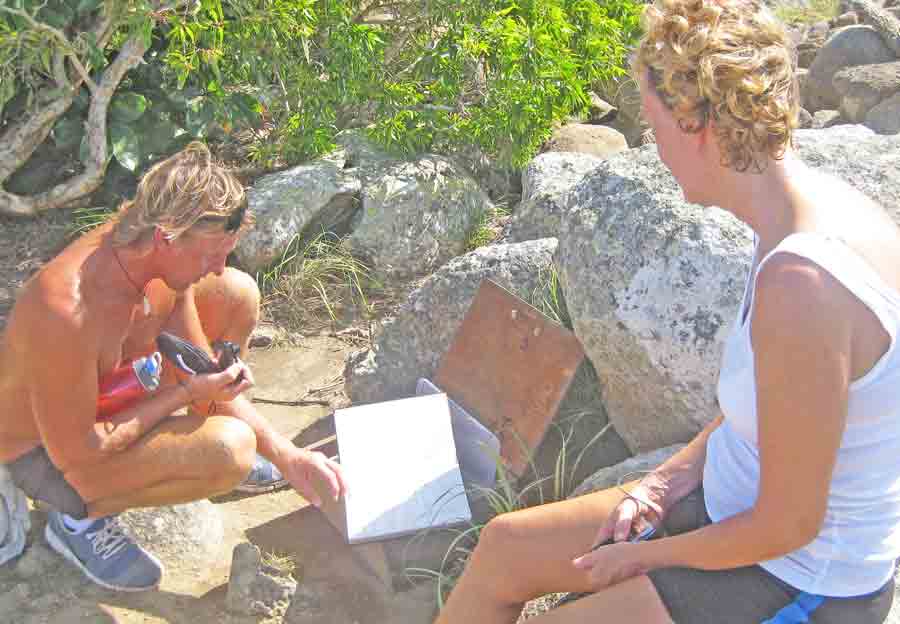 signing the book
Is the view from the top worth the effort? You bet!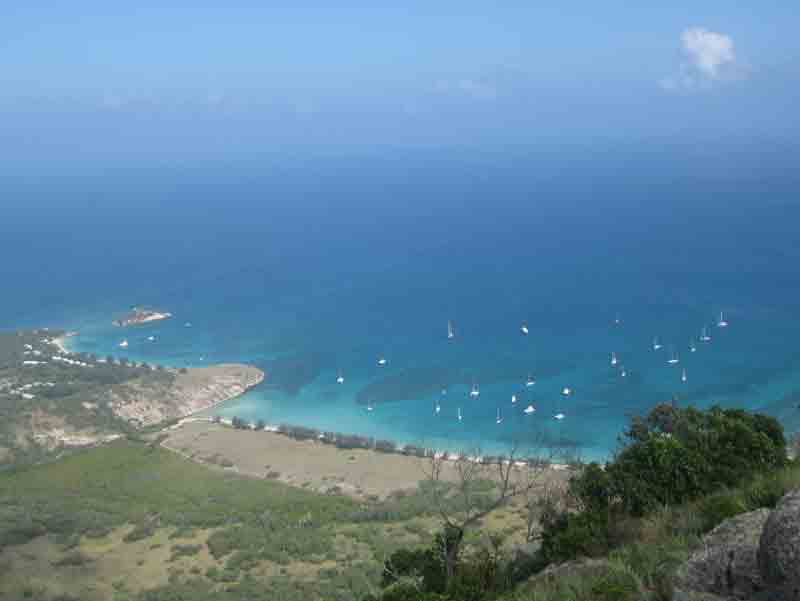 view from Cook's Lookout
---