Gili Air, Lombok, Indonesia

ANGEL
David & Valerie Allen
Mon 22 Nov 2010 08:48
08:21.79 S 116:04.94 E
Tuesday, October 26, 2010
Today we arrived at one of the most beautiful spots in Indonesia. Gili Air is one of three very small islands at the northwest corner of Lombok. We carefully followed each other like five ducks in a row through the narrow passage between the easternmost islands and followed LAROOBAA'S advice about rounding the hidden coral reef safely. Soon we were all snuggly moored on the Oceans 5 mooring balls and relaxing for a change.
Lombok is Bali's next-door neighbour and is, apparently, the way Bali was in the 1970s before the massive tourist influx. We didn't go ashore on the mainland to see the historic parts of the island (since we were still fugitives), but we certainly enjoyed the peace and simplicity that Gili Air had to offer.
Gilli Air has been a favourite of scuba diers and day-trippers from Bali for several years now. Apparently there are only three families living permanently on the island. They stil follow their traditional lifestyle of fishing, but have branched out into running small restaurants and shops and supplying labour to the larger hotels and numerous dive operations now located here. Prices are still more than reasonable and the people extremly friendly and willing to help.
We had a fantastic lunch at Scalawags restaurant then strolled about the island with Sara and Dick from MOONSHINER. Since we forgot our camera, these are some of Sara's photos.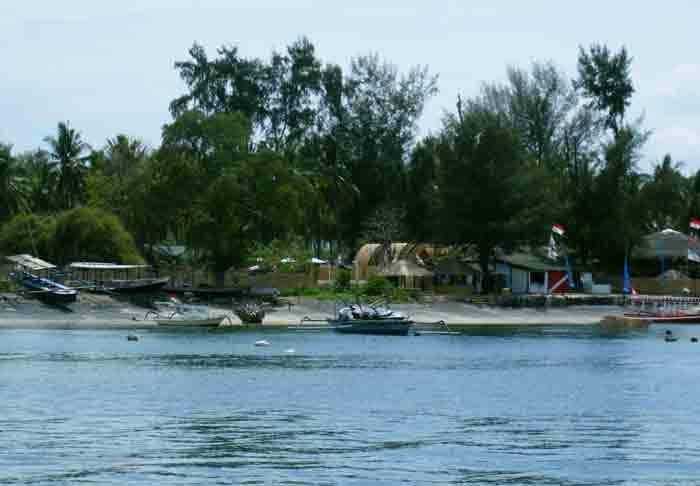 Gili Air waterfront
Boatbuilder using traditional methods
Almost completed
The finished product in use
A Timor pony and cart- the fun way to tour the small island
We celebrated Guy's birthday with cocktails at a beach bar and a fun time was had by all. Somehow, every time rally members get together it seems like a party!
Then it was an early night for all before our last stretch to reach Bali and become legal visitors to Indonesia!
---