Yacht Haven, Phuket, Thailand

ANGEL
David & Valerie Allen
Sun 19 Dec 2010 14:59
08:10.24 N 098:20.53 E
Friday, December 17, 2010
After reluctantly leaving Koh Lipe, we spent the next night at Koh Rok Nok, another enchanting anchorage. There seemed to be nothing on either of the two islands located there until early evening when the shore was suddenly lit up by a string of what appeared to be small lamp posts. When we finally discovered our pilot book, SAIL THAILAND, we found out that this island was once the scene of the French version of Survivor. The infrastructure, hidden though it is, is probably now being used by backpackers. On the other side of us the sea was alight with the high-powered lights of shrimp boats surrounding us. However, it was very quiet- no longtails!
Our third night out we anchored just ten miles from Yacht Haven. However, it was sunset when we arrived and the tide was not high enough to travel along the shallow north coast to the marina. We almost made it to the pontoon party to celebrate birthdays for Susan and David on ENCHANTRESS, Jeremy on FAI TIRA and to say farewell to the gangs on MOONSHADOW and PETER PAN.
Just before we reached this night's stop over, Koh Haka Yai, we spotted a cliff-dweller's home at the base of an extremely steep-sided island. This person lives up above the waterline and probably in front of a cave where there are particular little swallows whose nests, inside caves and stuck together by their saliva are highly prized for Chinese bird's nest soup.
Cliff-dweller's home
The limestone islands are riddled with caves. Unfortunately we did not have time to stop at the famous Emerald Cave. This is located at Koh Muk, near Koh Rok Nok. During the day it is inundated with tourist excursion boats. In the late afternoon, however, one can don a life vest and carry a waterproof torch (flashlight) and swim through a dark entrance tunnel (about 80 metres long) to emerge into a hong. Hongs are essentially roofless caves. They form a pool surrounded by vegetation and give off a greenish light. I am hoping we will be able to enter one of the ones in the Hong Group of islands. They do not have an enclosed entranceway and one can canoe or paddle a dinghy into them.
There always seems to be a bit of drama wherever we go. Tonight's was the sight of a burning fishing boat as we worked our way to our anchorage point. However, no other fishing boats seemed upset about it and the crew aboard the boat seemed unconcerned, so we can only surmise the situation was less dire than it looked.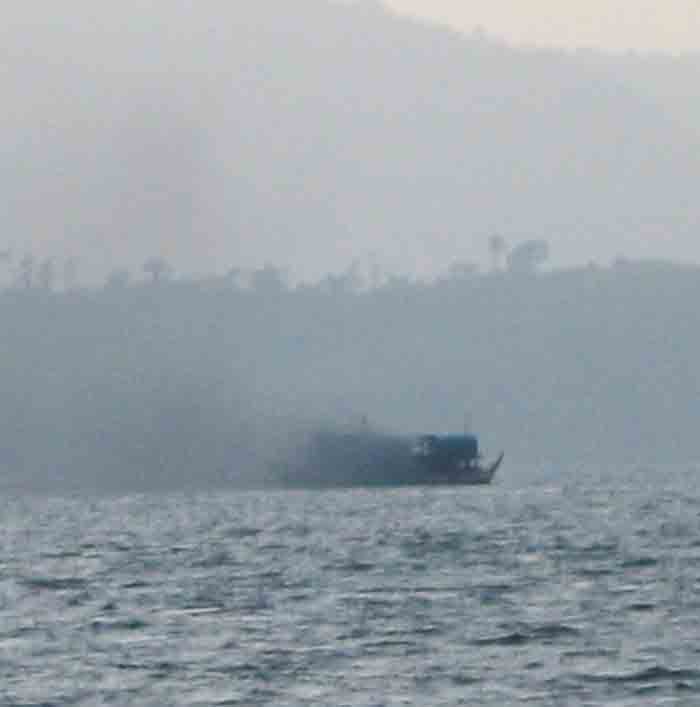 Burning fishing boat
On Friday, as we motored up the channel to Yacht Haven, an outbound sailboat suddenly altered course directly towards us. We had visions of superstitious Indonesian fishermen who, when the fishing is not going well aim amidships at another boat, then stop abruptly to let the bad luck jump off their boat onto the other boat. It was MOONSHADOW, heading back to Langkawi to leave her there until the next cruising season. I am so glad we had a chance to see them one last time. They will be sorely missed!
Upon our arrival, we docked safely, and then Dave lost all his energy. It was very important to get signed into Thailand and to apply for our Indian Visas (last day to do so). Tony took one look at Dave and decided it would be unsafe to have him drive to Ao Chalong (Chalong Bay) in his fatigued condition and drove us to the south end of Phuket Island and later to Phuket City himself. We were under deadline for the visas and met several obstacles along the way (of course). The biggest hurdle (other than traffic) was our arrival at the offices of the Harbourmaster, customs and immigration (one-stop shopping) just at lunch time. We had lunch at Jimmy's Lighthouse, the original yacht club in Phuket, while waiting for officialdom to return. As we were eating, we saw Dick and Sara walking past. (MOONSHINER had decided to sail to Ao Chalong as they cannot check in to the Royal Phuket Yacht Club until Tuesday. They were persuaded to apply for their Indian visas at the same time as us. Accordingly, we all came back with Tony.
Meanwhile, Dave successfully got through the offices of the Harbourmaster and Customs, but Immigration was still not back 20 minutes after their stated return time. Another very kind and efficient lady called the official up, then opened his office and gave us the paperwork. When he arrived, he just had to rubber-stamp our documents! We barely made it on time to the visa people and were soon on our way back to the marina to get ready for the Welcome Party put on by the marina.
And what a party it was! Great food (buffet), dancers, musicians, even audience participation. here are a few photos taken before my camera ran out of power.
The reception Committee. However, after a while we were cursing the late arrivals who straggled in, causing the band to set up a noisy welcome each time.
Dancers returning to the dressing room between sets
The fruit table was a feast for the eyes as well as for the belly.
During the bamboo stepping dance this young woman managed to keep up the rhythm while supporting her colleague. Later on she held her other dancing coworker as well- on her back!
Several of our younger rally members (and some young-at-heart members too) had the opportunity to dance between the moving bamboo poles. Here Shea and Charlie try out their footwork.
Saturday was supposed to be clean out the inside of the boat day and set up Christmas lights as well. Unfortunately, the lights were under the forward bunks, necessitating moving all our food supplies and then replacing them. This led to a food inventory for today's shopping. Cleaning out the bins also led to a bathroom cupboard overhaul. And food distribution led to a refrigerator defrosting and clean out. (Cleaning will be tomorrow!) Then we found the extension cord we had pulled out was the one dave sabotaged by cutting off one end for the transformer connection. Out came the bins again! (And I was wondering why my back was hurting this morning!)
Finally, the outdoor lights were up and the little Christmas tree was wired in place, the stockings were hung and the Nutcracker and Nativity Snow Globe joined the angels behind the sofa. It still doesn't feel much like Christmas- but it is festive.
Here is a picture of ANGEL's Christmas tree and angel on deck. It looks much better in the dark and is the only decorated boat around.
MERRY CHRISTMAS, EVERYONE!!!!!!!!
---