Photos -- Staniel to O'Brien's Cay

Seafever
Tue 13 Apr 2010 13:29
One last visit to Thunderball Grotto
Isabel got brave enough to dive through some of the underwater tunnels.
Just another beautiful sunset at Little Major's Spot.
Boarded by piggy pirate!
"Can we keep one? PLEEEEEZE?"
Checking out the Rocky Dundas.
Cambridge Cay anchorage.
Bell Rock off of Cambridge Cay.
Hiking Cambridge.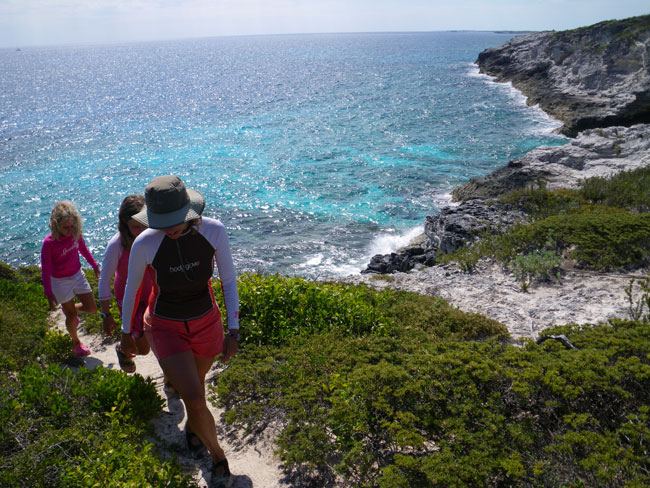 While we were hiking we heard a series of airhorn blasts that sounded like a freight train. Apparently it was this tug signalling that he had gone aground. We passed them on our way from Cambridge to O'Brien's Cay. The other tug tried to haul him off, but the tide was dropping and we later heard from other cruisers they were still working at it much later in the day. . . .
Our anchorage at O'Brien's on a fairly high tide. Compare to later photo with the tide out. . . .
Diving the "Underwater Aquarium."
Lilly and Rose preparing to enter the water from our "dive boat."
Live Tulip Snail.
Gray Angelfish. It was hard to get any of the lovely fish to pose sideways like this at close range. I have an enormous collection of photos of fish tails swimming away from me just as I clicked the shutter.
Rosie and the Sergeant Majors (and a couple of Yellowtail Snappers).
The view from below.
The girls tell me that this is a Stoplight Parrotfish, initial phase. And the little yellow fish are Bluehead juveniles.
Young Nurse Shark.
O'Brien's Cay, low tide.
---