Photos -- Staniel Cay and Black Point

Seafever
Wed 17 Mar 2010 16:54
Guests on board at Staniel Cay. Bob and Carol Ahlers of Time Enough II, plus Bill Raley, Heidi Berger, Paul, and Mary-Beth of Act III. What a pleasure to meet and learn from these veteran cruisers.
Water hand pump dissaembled for repair. A little epoxy judiciously placed fixed it, for now. . . .
Our anchorage in the creek near the airport. Famous Bahamian racing sloop "Lady Muriel" behind us.
The Bataan Death March -- a long walk all around Staniel on a hot dry day.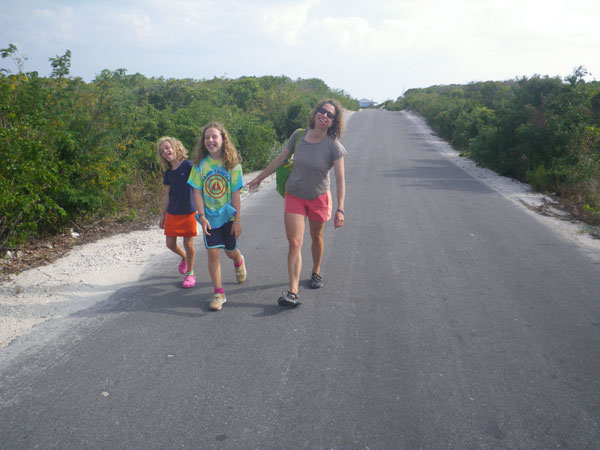 High and dry in the little creek near Islas General Store on Staniel. This allowed me to fix the bottom step on our transom, which had gotten knocked out of whack by the rudder, when it got buried in the sand and twisted, back at Shroud Cay.
Tootie, Kook, and Jeff -- they came over to see "Sea Fever: when we were high and dry, which led to a great friendship over the next few days.
Bahamian sunset seen near Little Major's Spot. We get a lot of amazing sunsets.
Lilly getting ready to set the anchor.
Strange species of local monkey:
Approaching the goat caves:
View from atop a hill on Big Major's Spot. You can see "Sea Fever" as a whitish speck in the little bay to the lower right.
Inside Thunderball grotto, looking up.
The Groaning Wreck. This washed up during a hurricane two years ago on Big Major's Spot. We were anchored very near it, and all night long it moaning and groaned as the swell pushed against it. Very eerie -- it was like sleeping in a graveyard.
Isabel diving near coral and sea fans.
Elkhorn coral. This stuff is huge -- about 7 feet across.
"Mimi," a neighbor in our anchorage near Big Major's. Note the kayakers ahead of them for scale. . . .
Entering Dotham Cut near Black Point.
Bahamian racing sloops at Black Point. We saw a couple of these being built nearby
Lorraine's Cafe, where we're sending this e-mail from. Free Wifi and good food, too! We love you, Lorraine.
The girls playing on the flats in the evening.
At anchor at Black Point as sunset approaches.
That's all for now. More photos soon, I hope!
---